One of the objects that customers love to have in their kitchen is a custom wood knife block. It provides storage space for knives and protects them from damage and dust besides being decorative.
The market offers different options to choose from, as manufacturers make knife blocks differently. How do you ensure that you can offer a top-quality item in your catalogue? Let's discuss in this article.
The benefits of offering a custom wood knife block & some advice
Today, almost all manufacturers can provide wood knife blocks in many varieties and styles. Some have a high number of slots for knives and sometimes for other kitchenware objects, such as shears and carving knives.
Customers love to buy them for themselves or as a gift for someone else for many reasons:
they keep all the knives visible and accessible
they're safer than just keeping knives in a common drawer
they save on space
they can also be put in a cabinet if needed
they are made with a sustainable raw material
It is therefore a good idea to offer them in your catalogue.
But how do you evaluate a top-quality custom wood knife block?
Let's take a closer look.
As knife storage devices, knife blocks have essentially three functions:
organizing knives
saving space in the kitchen
protecting knives by avoiding damage
Have a look at some examples in the video below:
The most common types of knife blocks are made of easy-to-clean hardwood, such as oak, maple, or cherry.
The highest-quality blocks are made from a single piece of wood machined with specific tools to create the needed shape. In this way, the final object is more stable and durable and can hold different knives, including heavy ones.
You should also verify that the bottom of the block won't skid so that it does not slip off the surface.
A wooden block for knives can come with vertical or horizontal slots. Some people think that vertical slots can cause a knife to become dull, as the edge of the blade rests on the wood and is constantly rubbed when the knife is pulled out. This problem can be easily avoided, however, by pressing the top of the blade into the slot when pulling out the knife so that the edge doesn't rub.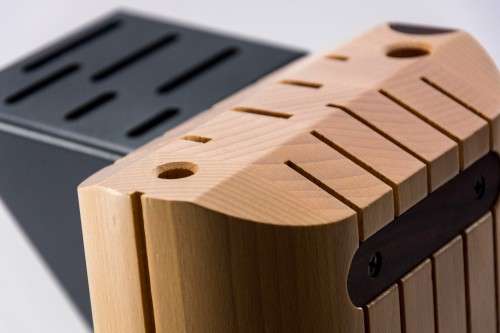 With horizontal slots, the knife rests on the flat side of the blade, so there's no risk of dulling the blade with constant friction.
You should include both types in your catalogue so that consumers can choose the one they prefer.
There are also under cabinet blocks that help you save countertop space. They are ideal for small kitchens, so people can cook freely without dropping any kitchenware tools.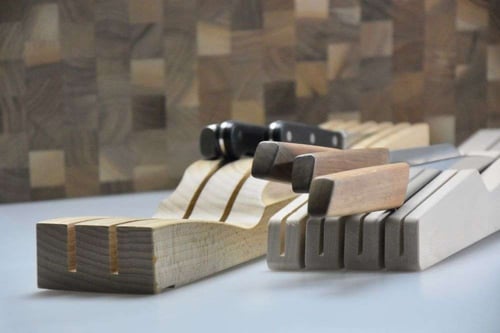 A reliable wood manufacturer can provide many shapes and designs to satisfy different customer preferences.
A beautiful and well-made custom wood knife block adds beauty to the kitchen
Verify if the supplier can offer many types of finishing options, food-contact varnishes and paintings, and possibilities of customization, e.g., laser engravings, serigraphy, and digital printing, to let your clients personalize them according to their needs.
A competent manufacturer should also be able to apply special antibacterial finishes that make the object safer for customers as it comes in contact with cutlery.
Also consider that wood is an elegant and prestigious material, and people love to display wooden kitchenware and homeware in their homes, as they are considered real objects of design.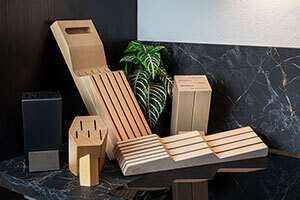 Moreover, the fact that wooden blocks are sustainable objects is very appealing for them. Today, in fact, people are more conscious about environmental issues, and they are even willing to spend more for products that don't cause any damage to themselves or the environment.
They expect to find eco-friendly alternatives in stores, and brands strive to satisfy their needs.
It means that if you want to stay ahead of competitors and be in line with current trends and customers' requirements you should offer wooden knife blocks in your catalogue.
You must find a reliable wood manufacturing company that can create top-quality products, customizing them according to your clients' requirements and respecting all the rules and parameters imposed by the market for environmental protection.
---
The Minelli Group, thanks to its deep experience in wood manufacturing combined with the use of the latest technologies and cutting-edge machines, can ensure the highest quality standards.
We have specialized in wood manufacturing for more than 80 years and can create custom wood knife blocks of the highest quality and durability.
We use only FSC/PEFC-certified wood, thus responding to all the standards dictated by the market in terms of sustainability and safety. We recently underwent an EcoVadis Audit and received a highly positive rating in terms of environmental, labor & human rights, ethics, and sustainable procurement impact.
Thanks to our sophisticated software and cutting-edge machines, we can satisfy even the most demanding requests, creating unique eco-friendly kitchenware products.
If you need more information or have a project in mind, contact us right now!