Sustainable kitchenware doesn't mean being ugly or uncomfortable. If you choose the right raw material and a reliable manufacturer, you can get elegant and precious eco-friendly objects to offer in your catalogue.
Discover more in the following article!
Offering sustainable kitchenware is now mandatory: discover why
Today, offering sustainable alternatives to plastic and nonrecyclable materials is necessary to respond to the needs of modern consumers. Especially after the Covid-19 pandemic, they are more prone to make more ecological choices in their everyday life.
45% of consumers prefer buying from brands that care about the environment
92% of customers are more likely to choose a company that is active in environmental issues
1/3 of consumers can decide to pay more for eco-friendly objects
They want to buy products that are sustainable but also aesthetically beautiful and prestigious, especially kitchenware and homeware objects.
When people buy something to display in their houses, they are very attentive to its design, appearance, and finish. Many collect knives, and they want to customize them to be perfect. They look for functional products that are also prestigious.
If created by an expert manufacturer, a sustainable kitchenware tool can become a real object of design. You can see some examples in the video below:
Wood is the right material to create elegant & sustainable kitchenware
Wood is widely used to create prestigious products, as it is extremely beautiful and can be customized according to clients' needs by an expert wood manufacturer.
Thanks to its unique characteristics, it is also appreciated to create kitchenware and homeware tools. Widening your catalogue with top-quality wooden kitchenware designs will let you stay ahead of competitors by offering something distinctive and captivating.
Wood, in fact, can be customized with a wide range of finishing options that make it even more prestigious. An expert manufacturer can advise you about the best finish for a certain type of wood to ensure a top-quality product.
Some special finishes, for example, can make wood stronger and water repellent. They can be ideal for kitchenware knives and cutting boards, which often come in contact with water or are left in humid places.
Other finishes can make kitchenware tools more elegant, such as polymer coatings or laser engravings. These can be perfect for collector's items or decorative objects.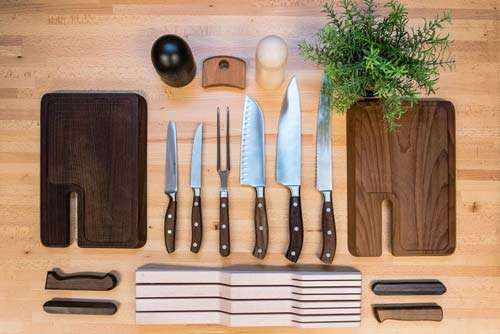 Consider that restaurants may also be interested in special cutting board designs that can be used as unique and distinctive serving dishes.
The primitive soul of wood combined with the most cutting-edge techniques and finishing options lets you create amazing products combining elegance, sustainability, and prestige.
Wood is more hygienic and safer too
Nowadays, one of the biggest issues is microplastics, as they can be very risky for people's health and the planet's well-being.
Kitchenware products made of plastic, especially cutting boards, can produce microplastics that could be ingested or end up in the oceans.
When cutting on a cutting board, in fact, small chunks of plastic are cut off from the board as a consequence of grooves and scratches caused by the knife blade on the surface.
This process produces microplastics that remain attached to food and enter the stomach or are dispersed in the environment.
People are aware of this problem, and they are even willing to spend more for products that don't cause any damage to themselves or the environment. They look for and expect to find eco-friendly alternatives in stores, and brands strive to satisfy their needs.
That is why you should offer sustainable kitchenware in your catalogue.
Custom cutting boards and knife handles made of wood are an ecological solution to respond to the requirements of modern consumers and demonstrate your commitment to correct environmental problems.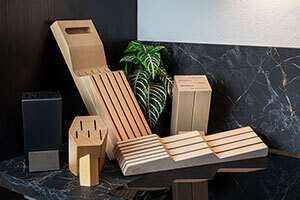 Be careful, however, to ensure they are FSC or PEFC certified, meaning that wood is properly gathered following rigorous rules of environmental protection and sustainably grown.
Sustainability, in fact, is not just linked to the raw material.
When selecting the wood maker, be sure that it adopts an overall eco-friendly approach during the entire production process, from the collection of wood to distribution of finished products:
complying with the rules about environmental protection
working to reduce the company's carbon footprint
promoting the use of fast-growing timber
adopting a circular economy model
trying to make logistics more sustainable
using energy-efficient implants and technologies
It is also necessary to select a competent and experienced manufacturer with the right machinery and tools to create complicated shapes and unique designs to satisfy your clients' demands.
---
Creating sustainable kitchenware that is also elegant and prestigious depends especially on the supplier you select.
It must have deep experience in wood manufacturing combined with the use of the latest technologies and cutting-edge machines to ensure the highest-quality wooden items.
The Minelli Group has managed wood for more than 80 years and is known all over the world for the quality and precision of its products as well as its commitment to sustainability.
If you would like to have more information, book a free consultation with our experts right now!