Today, to stay ahead of the competition, you can't ignore the spreading sustainability trend. Especially during the Covid-19 pandemic, people understand the importance of safeguarding the planet, and they try to make their habits—and their houses too—more sustainable.
One of the simplest ways to do this is by choosing eco-friendly kitchenware and homeware.
Let's discuss this topic in the following article.
Eco-friendly kitchenware: what you should know to be successful
People have always loved wood in their houses. Custom wood products are very appreciated for interior design, as they make the environment healthier and more appealing.
Living in a house where nature is strongly present has a significant effect on people's well-being, both physical and psychological.
This is why nowadays incorporating natural elements into building construction, including the interior, is increasingly common to achieve a sustainable design.
Moreover, besides the benefits for humans' well-being, wood is extremely beautiful, and consumers also love it for this reason.


Wooden knife handles and cutting boards are the most sought-after kitchenware products
Here are some reasons.
They are elegant and prestigious
People love wood because it is a precious material, and it also provides a sense of elegance and design to the house.
Many people are collectors of knives. Besides functionality and comfort, they look for top-quality and aesthetically beautiful items. They expect to be able to customize them according to their preferences, and they look for a supplier that can create unique objects that have never been seen before.
They are safe and durable
Wood is resistant to electrical conduction, and it remains cool even if left near a heat source. It is important for kitchenware objects. It also seems that wood has some antimicrobial properties, especially close-grained woods that are less likely to absorb moisture and bacteria.
If treated with the right finish, wooden knife handles and cutting boards can last for years. The surface can be made water repellent and also more resistant to impact, falls, chemicals, and moisture.
They are comfortable
Wood is warm and natural, so it gives a unique feeling when touched. If the wood manufacturer has the right machinery and tools, it can create unique and ergonomic shapes that make the products even more comfortable to hold.
A competent manufacturer can also create special textures to increase the grip, preventing the object from slipping away.
They are sustainable
Plastic is widely used to produce knife handles and cutting board designs because it is cheap and widely available.
However, besides being far less beautiful than wood, we all know the problems linked to plastic pollution. In particular, microplastics are dangerous for the environment and consumers' health.
Consider that when you use a knife to cut food on plastic cutting boards, the knife blade causes many grooves on the board's surface, which are the consequence of small chunks of plastic cut out of the board. This process produces microplastics that remain attached to food and enter your stomach. This can be very risky for consumers.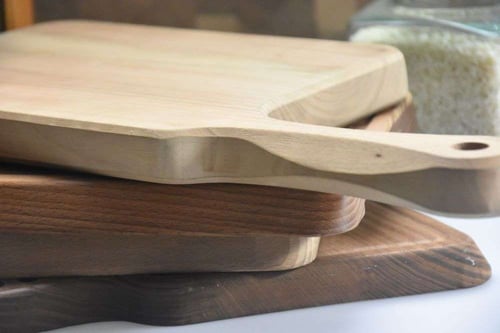 Wooden kitchenware is therefore a healthier solution, too, but there is an important aspect to consider when talking about eco-friendly kitchenware.
Choosing an organic material doesn't mean your products are 100% sustainable
Sustainability is not just about the raw material. It also concerns the entire production process of the products you buy from your supplier.
When selecting the wooden components to offer in your catalogue, be sure they are FSC certified. It is necessary to ensure that the manufacturer has an environmentally friendly approach during each phase of the production process, from collection of the raw material to distribution and logistics.
It means:
complying with the most rigorous standards
working to reduce the company's carbon footprint
promoting the use of fast-growing timber
adopting a circular economy model
trying to make the logistics more sustainable
using energy-efficient implants and technologies
We discussed the topic in this article about custom-made wood products.
Selecting the right wood maker is essential
Offering wooden items in your catalogue lets you respond to the needs of modern consumers, who are more conscious and demanding than ever before.
You must find a reliable supplier that can create top-quality products, customizing them according to your clients' requirements and respecting all the rules and parameters imposed by the market for environmental protection.
Your clients will expect unique products and a vast selection of essences to choose from as well as many finishing options, and you should be able to satisfy them.
But it all depends on the supplier you select.
---
The Minelli Group has specialized in wood manufacturing for more than 80 years and can create custom-made wooden components of the highest quality and durability.
Our wooden components are FSC certified, thus responding to all the standards dictated by the market in terms of sustainability and safety. We recently underwent an EcoVadis Audit and received a highly positive rating in terms of environmental, labor & human rights, ethics, and sustainable procurement impact.
Thanks to our sophisticated software and cutting-edge machines, we can satisfy even the most demanding requests, creating unique eco-friendly kitchenware products.
If you need more information or have a project in mind, contact us right now!