Oral care is very important for a healthy smile, to prevent tooth decay, and to remove plaque. The tools people use to brush and clean their teeth are important in protecting your mouth, as they must be safe and hygienic to avoid possible problems. Wood is the best choice, but producers must respect all the standards dictated by the market to guarantee maximum safety for people. How do you verify it? Read this article to discover more.
Oral care tools & possible dangers for consumers
Dental care tools used in your mouth, such as toothbrushes, toothpicks, and interdentals, must be extremely safe and hygienic. If perfectly managed, the safest material is wood. If you decide to include wooden oral care products in your catalogue, you must carefully select your manufacturer. Let's see the possible risks for consumers and how a competent supplier can solve them.
Molds
Mold requires moisture to grow, and a sink is one of the most humid places in the house. Toothbrushes and other oral care products are usually placed near the sink, often in a plastic holder. When people clean their teeth, the toothbrush remains wet, and when they put it into the holder, proliferation of mold is very likely. This can be a major problem, as these microorganisms can cause allergic reactions to sensitive people, including sneezing, runny nose, red eyes, and skin rash.
If treated correctly, wood is less likely to develop mold. Your supplier must be able to treat wood with special finishes that make it water-repellent and avoid the growth of bacteria and fungus. If a product is water-repellent, it means that it is hydrophobic and repels water on contact. These types of finishes make wooden dental objects safer and more hygienic than plastic ones.
Splinters
Wood splinters may be dangerous for people. If they break the skin or the mucosa, they can make it easier for bacteria to get under the skin and lead to infection. If the wood maker you select has the right tools to manage wood correctly, this risk can be easily avoided. If wood is perfectly smoothed, there won't be any splinters. Strict quality control—both automatic and manual—are required to ensure that the final product is safe for consumers.
Toxic paints
A wooden object—even a wooden toothbrush—can be customized with many innovative finishes that make it a real object of design. However, since we are talking about oral care products, it is necessary to verify that any paints used are approved by the FDA (Food and Drug Administration), which is the agency responsible for controlling and supervising that some products are safe for people's health. If paints are not approved by the FDA, it means they could cause problems when ingested, so they cannot be used for oral care objects. You must be sure that your supplier adheres to the necessary requirements for making products safe for consumers.
Including wooden dental care objects in your catalogue is the best choice
Widening your catalogue with wooden dental care products is a great idea today, but you must be careful and select an experienced and competent supplier that respects all the safety standards dictated by consumer protection associations. Your supplier must be able to create high-quality products, proposing new styles and ideas in line with market trends and consumers' preferences. Consumers today are more demanding than ever before and want to purchase products that respond to their requirements. Wooden objects are really appreciated, and they replace plastic ones in almost every industry. Wood has many advantages in terms of quality, aesthetics, resistance, and prestige, but the most relevant characteristic is that it is a sustainable material. Most consumers are aware of environmental issues and the problems linked to plastic pollution, and they prefer buying sustainable objects instead of plastic ones. Using wooden toothbrushes is considered one of the simplest ways to make a significant change in favour of our planet, reducing the use of plastic. If you offer comfortable, ergonomic, glamorous, and customizable wooden oral care products, you will very likely be successful.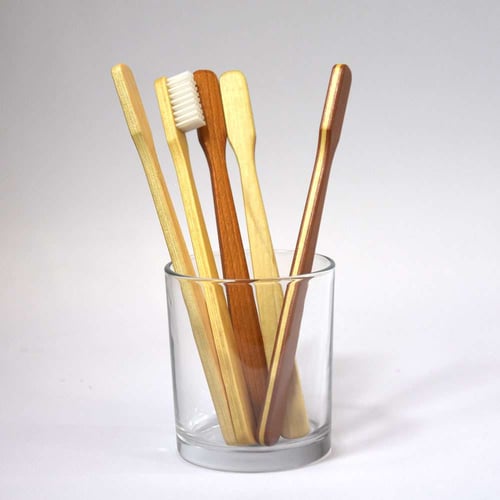 To achieve this goal, you must find a wood manufacturer that can create top-quality products and offer a wide variety of finishing and personalization options. If your manufacturer can also offer predrilled toothbrush heads according to your design, commercialization will be simpler, as you could test the market and adjust production accordingly.
---
Thanks to its decennial expertise in wood manufacturing, the Minelli Group can help you create successful products, responding to market trends and customers' preferences. Our specialists always serve customers in the best way, respecting all the rules and standards in terms of safety, hygiene, and sustainability.
If you have a project in mind, do not hesitate to contact us. Our experts will be glad to evaluate your plan and help shape your idea. Click here!