Brushing our teeth is part of our daily routine, and we usually use plastic toothbrushes. Nowadays, people are increasingly aware of environmental issues and the problems our planet is facing, so they look for alternative eco-friendly solutions in every aspect of their lives. Simply switching from a plastic toothbrush to a wooden one could be a first step toward a solution for the plastic problem. That's why starting the production of wooden toothbrushes could have great advantages, but you must consider certain factors. Let's discuss them in this article.
What factors must you consider before producing wooden oral care products?
When you evaluate the possibility of producing wooden toothbrushes, you must pay great attention to the supplier you select. Then two groups of elements must be considered: safety and commercial requirements.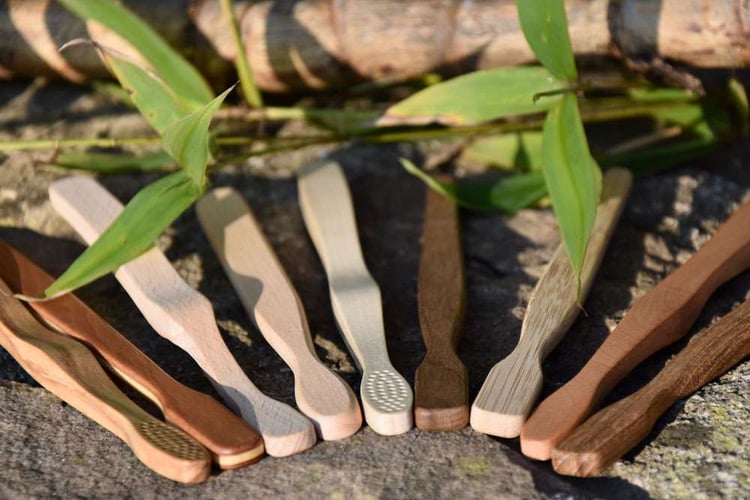 In this article, we will discuss the following topics:
Why you should start producing wooden toothbrushes
Deciding to include wooden oral care products in your catalogue can be a smart choice, as it meets consumers' increasing need for sustainable and eco-friendly products. People today are more prone to buy products that don't damage the environment, and they are also willing to pay more for them.
It's estimated that just in the U.S. around one billion toothbrushes end up in landfills every year. These plastic objects then go into the oceans, causing severe damage to fish and other marine species. Nearly one million seabirds and 100.000 marine creatures die from plastic ingestion every year. Deciding to start using a wooden toothbrush instead of a conventional one is the easiest thing people can do to reduce their use of plastic. It must be considered that every year 8 billion plastic toothbrushes are used worldwide, and almost 80% of these wind up in the ocean. Traditional toothbrushes are made from nonbiodegradable materials that take hundreds of years to fully break down. You can just imagine the risk for our eco-system: by 2050, it's predicted that there will be more plastic in the oceans than fish.
Wooden toothbrush handles guarantee the same quality of cleaning as plastic ones, but they have the added benefit of being better for the environment, as they are 100% sustainable. When you decide to produce wooden toothbrushes, however, you must consider that oral care products affect people's hygiene. They are used in the mouth, so safety is the first and most important thing to take care of. Moreover, the product must be marketable, so it must respond to many business requirements. Let's discuss in more detail below.

Hygiene and safety of wooden products: how to verify them
When we talk about oral care products that can be made using wood, we don't just refer to toothbrush handles. Toothpicks, for example, are made of wood, and interdental brushes may be created by using wood too. As these objects are used in the mouth, it is crucial that the raw material responds to some safety requirements that your custom wood products supplier must guarantee:
Coloured with safe paints, approved by the FDA
The Food and Drug Administration is a U.S. agency responsible for controlling and supervising that some given products are safe for people's health. It is very important to verify that your supplier uses FDA-approved paints for its wooden oral care products so as not to be risky for consumers.
Managed properly, not to be splintered
Splinters may be very dangerous for people, as they could wound their lips, mouth, or fingers when people use a wooden toothbrush or a toothpick. Your manufacturer must be able to process wood correctly, with the right machinery and tools to make it perfectly smooth. You must also ensure that the manufacturer applies strict quality control—both automatic and manual—to guarantee perfect and safe products.
FSC certified
It is not enough to say that wood is sustainable, as it must be collected following strict guidelines for environmental and forestry protection to preserve the natural ecosystem. FSC certification guarantees it, and your supplier must adhere to the necessary requirements.
Treated with water-repellent finishes
Oral care products must be hygienic. Toothbrush handles are generally placed near the sink, so they easily get wet and remain damp for a long time. This can cause the proliferation of mold and bacteria that should be avoided for health reasons. If you choose a specialized manufacturer, he must be able to treat wood with special finishes that make it water-repellent. This process will prevent the growth of microorganisms even if you leave your toothbrush in a steamy bathroom. According to recent studies, bacteria survive shorter on wood than on plastic (even when cleaned with specific products). That's why cutting boards and kitchen surfaces where food is prepared are often made of wood.


Download the free whitepaper to discover how to create safe oral care products!


Advantages of using wood in the oral care industry
Many producers could think that producing plastic toothbrushes is more convenient than commercializing wooden ones, but this is not always true. Even if it is undeniable that the raw material is more expensive, producing wooden toothbrushes has many advantages that are often underestimated.
First, wood doesn't require moulds. If you decide to produce wooden oral care products, your initial investment will be extremely low with respect to plastic. To create a plastic toothbrush, you need to buy an expensive mould, and if something needs to be modified, the mould must be thrown away, and you have to make a new one. Wood is extremely flexible: it can be easily modified and reshaped according to clients' needs and preferences. If your manufacturer can supply predrilled handles, you will be able to simply test the market and adjust production according to the market trend and customers' preferences. It is a significant advantage for producers, as at least initially they can make a proof without thinking about the ROI.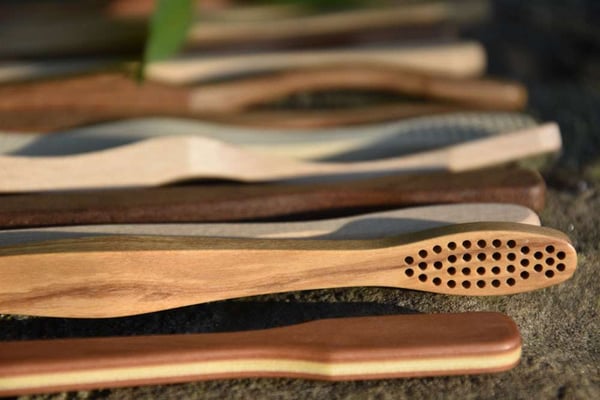 Second, wood is very malleable, and if the manufacturer has the right expertise and tools, he can create particular and complicated shapes. To be successful in the market, a wooden toothbrush must be a real object of design both glamourous and beautiful. You can't convince your clients to buy it if it is odd, which would be more difficult to sell. Moreover, it must have the right shape to be functional and comfortable to hold. A competent manufacturer with a deep knowledge of wood and innovative machinery can create ergonomic designs and customize it with special finishes and decorations. Laser finishes, for example, can be used to brand it. If you choose an expert manufacturer, he will be able to give you 2D or 3D prototypes, imitating the shapes of plastic toothbrushes.
---
If you are looking for a competent manufacturer that can guarantee high-quality products delivered on time at a competitive price, we can help you. Since 1937, Minelli S.p.A has ensured perfection in the quality and design of each product manufactured, and its experienced specialists serve customers in the best way possible, following rigorous processes and environmental sustainability. The company respects all the rules as well as the parameters and standards dictated by the market in terms of safety, hygiene, and sustainability. Customers will know where raw materials are bought and produced and who works on them. Selecting a supplier is a strategic decision that should not be taken lightly, as it primarily affects clients' satisfaction and buying experience.
If you have a project in mind, don't hesitate to contact us! Our experts will be glad to evaluate your plan and help shape your idea.