In the U.S., three in ten American adults say they own a gun, while one in ten say they live with someone who owns a firearm. Many people are passionate about guns and collect them to display in a special area of their house. Those who collect firearms love the way they are created and very often want to customize them. In this article, let's discuss how to meet their requests.
Why clients demand custom rifle stocks and how to satisfy them
People collect firearms for many reasons. The practice of gun collection in the USA dates back to 1930, when people could buy firearms for pleasure and not just for protection or need. Since then this tendency has increased considerably. According to recent Pew Research Center surveys among Americans who own a gun, nearly two-thirds say they have more than one, including 29% who own five or more. Seventy-two percent own a handgun or pistol, while 62% own a rifle, and 54% own a shotgun.
Really passionate people choose wood for their custom rifle stocks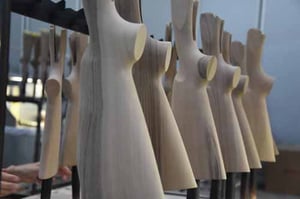 Even if the primary reason why people buy a firearm is for protection, many enthusiasts love them purely for their beauty and purchase them just for the pleasure of it. They consider firearms made of wood—even the most prestigious types—and very often ask for custom rifle stocks. Wood is the favourite material for those who look for an accurate and precise gunstock but also for those who love the prestige of the firearm and the tradition and history of rifles and guns. Wood, in fact, has been used to create firearms since ancient times; plastic, stainless steel, and composites are modern materials with some advantages, but from an aesthetic point of view, they do not have the same quality and charm of the finest aged walnut. Modern materials are cheaper than wood, but they are not comparable either aesthetically or technically.
What do clients expect from their supplier?
If clients ask for custom rifle stocks, they usually have some popular requests for their supplier. Many clients are fascinated by the mechanisms and development of gun technology, so they look for innovative designs, new styles, and unusual finishes. They also love wood because it can be customized and enhanced with many types of finishes. Among the possibilities:
oil, oil + wax, and oil + wax + polymer finishes
classic paints
water-based finishes
embossing & engraving
soft-touch finishes
polymer coatings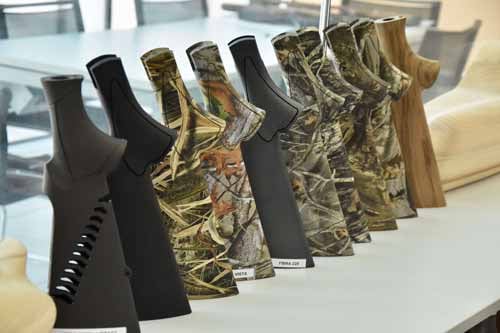 This last type of finish is very sought after today and appreciated both by clients—because it is very innovative and distinctive—and by suppliers because they can enter the plastics market without paying for the mould. Polymer coatings, in fact, make wood resemble plastic, with the possibility of exploiting all the advantages of wood in terms of feel, resistance, and accuracy with a lower initial investment.
Customization is also crucial for an accurate shot
Many clients are not just simple collectors but also use firearms for recreational activities, such as hunting or target shooting. They want their rifles or guns to be not only beautiful but also functional, solid, and accurate at the same time. For them, customization is crucial, as professional shooters need a gunstock with a proper fit for high-level performance and to hit the target consistently.
The problem is that most manufacturers are not able to offer custom rifle stocks, so they propose standard stock dimensions that fit the average shooter but are not built according to individual preferences. Clients want to be able to buy a custom rifle stock created for their needs and standards and that doesn't break after a few shots. Moreover, they don't want to wait a long time to receive the product they order. If they must wait six or seven months, their new and innovative rifle will already be old!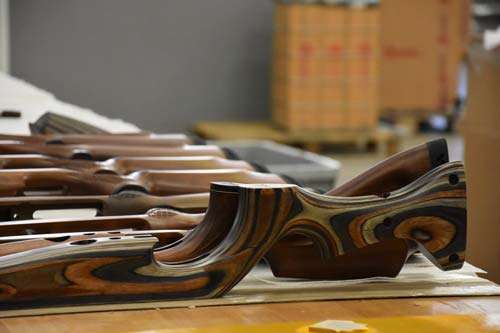 In the U.S., a serious community of enthusiasts are willing to pay a lot to have the perfect object they want. As specialized firearms collectors, they are able to recognize a good rifle or gun compared with a bad one, and they won't accept an item that doesn't correspond to their standards. As a supplier, you need to be able to offer maximum quality and a wide range of choice in your catalogue. You must find a manufacturer that can produce custom rifle stocks, gunstocks, thumbhole rifle stocks, accessories, and who is also able to suggest innovations and new product developments. Moreover, to create perfect objects, the manufacturer must have a deep knowledge of wood, the right machinery and tools to process it, and a team of experts able to solve each possible issue. He must respect any deadlines and guarantee to deliver your products on time.
---
Thanks to our modern and innovative machinery, we can reduce the lead time between development and delivery of our products to just three months, guaranteeing perfect custom-made items that meet clients' expectations and requirements. Minelli is known worldwide for its high standards, the quality and precision of its products, and the wide range of finishes it can offer. If you have a project in mind, don't hesitate to contact us! Our experts are at your disposal.