A robust camping knife is essential for any camping trip, but with so many shapes, sizes, and materials to choose from, recognizing a good product is often difficult.
In this article, we focus on knives with wooden handles, discussing the advantages of this raw material and the most important things to look for to satisfy your clients' requirements.
Camping knife: designs & characteristics
Before talking about wood, we must mention the two different types of outdoor knives:
Fixed-blade knives that consist of the blade metal running through the handle (if the metal extends through the entire handle, they are called "full tang")
Folding knives, where the blade opens and closes along a hinge and can be retracted into the handle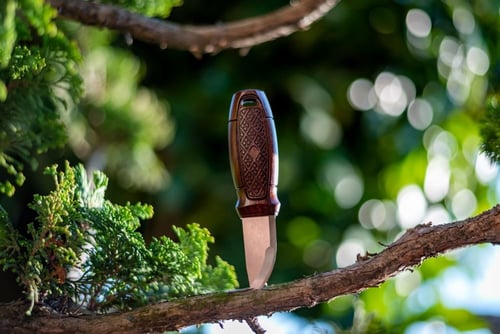 Fixed-blade knives are strong and resistant, as the blade and the handle are a single and solid piece. They are ideal for the outdoors and any kind of adventure into the wilderness.
It is a trusty tool for such campsite activities as:
splitting kindling
preparing food
starting a fire
whittling tent stakes
cutting cord and rope
Folding blade knives have a more compact design, as the blade can collapse into the handle. A lever mechanism lets the blade be locked into position. For this reason, they are better used for less impactful tasks, as they are more likely to be damaged.
A good camping knife must have a top-quality blade. Stainless steel is generally the best material for blades, as it has high corrosion resistance and is easy to sharpen.
The handle, however, is also important in the overall quality of the knife. Nowadays, you can find many knife handle materials, such as wood, plastic, rubber, and composite.
The shape and feel are very important as well as the grip. Clients look for comfortable, ergonomic, and suitable knives to be held in different positions and for many purposes.
Wood is the best material for camping knife handles. Let's see why.
The benefits of wood for camping knife handles
Some people might think that wood is not a good material for outdoor activities, as it absorbs water and could break easily, but consider this: tree trunks are made of wood. They are exposed to all kinds of weather conditions, but they still survive for centuries, adapting to each season.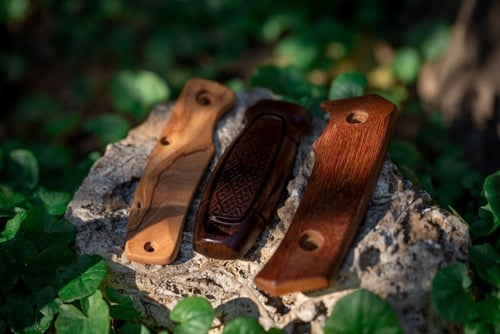 Outdoor knives must be used in nature, which could be considered sufficient to choose wooden handles.
However, there are many other advantages.
DURABILITY
Wood is strong and resistant. Being a flexible material, it is also less likely to break during use. Moreover, a competent supplier can apply special finishes that make it even more resistant to impact and falls, ensuring very long service.
Water-repellent finishes can also be applied to protect the handle against rain, moisture, and water. A wooden handle can last for ages as trees do.
FUNCTIONALITY
Wooden handles are very easy to keep clean: it seems that bacteria and germs grow faster on plastic and metal surfaces, while wood has natural germ-killing properties.
As knife handles must be combined with a metal blade, it is essential that the manufacturer you select knows the precise tolerances of wood to ensure a perfect fit.
SAFETY
Wood doesn't conduct heat. If people leave their knife near a fire or under the burning sun, it will remain cold. A metal object, however, will become very hot and might burn your hand, while a plastic tool will melt.
COMFORT
Wooden handles are more comfortable to hold than metal or plastic ones, and they are more pleasant to the touch. Special treatments and finishes can also increase the grip (e.g., textured or knurled handles), preventing the knife from slipping away.
Wood is also naturally shock resistant, and vibrations are only slightly noticed.
DESIGN & PRESTIGE
Wood is an elegant and prestigious raw material, and it can transform a simple knife into a real object of design. If the wood maker you select is competent and has cutting-edge machinery, you can offer very original shapes in your catalogue as well as customized objects.
Laser technologies and engravings, for example, can be used to personalize the wooden pocket knife handle and make it unique.
COST-EFFECTIVENESS
It is undeniable that some types of wood—such as olive and walnut—are more expensive than others (e.g., beech and ash), but wood is certainly cost-effective.
In fact, wood doesn't need moulds and can be machined, milled, and reshaped quickly if something must be modified. Moulds are very expensive, and if something goes wrong, you must make a new mould, wasting time and money.
SUSTAINABILITY
People who love camping love nature, too, and they prefer buying tools that safeguard our planet. For this reason, wood can be their preferred choice, as it is a natural raw material.
However, you must choose a supplier that can demonstrate that each phase of the production process—from collection of the raw material to manufacturing and distribution—is as sustainable as possible.
Wood must also be FSC certified (i.e., properly gathered following rigorous rules of environmental protection and sustainably grown).
---
A good camping knife must suit clients' personal needs and must be crafted accordingly. An expert manufacturer uses the most cutting-edge technologies and machines and pays great attention to details as artisans do. Such a manufacturer will be able to create perfect wooden objects.
If you are looking for a reliable partner with decennial experience in wood manufacturing, do not hesitate to contact us!