Plastic is a very common material for cutting boards, largely because it is cheap and widely available. Many people also believe that some food, especially meat, should be cut on plastic because it is more hygienic.
However, this is not true, as every time you use a plastic cutting board, you are ingesting microplastics.
That is why you should offer custom cutting boards made of wood in your catalogue.
Let's discuss this topic in the following article.
Custom cutting boards and microplastics: why it is dangerous for health
Anyone who uses a knife to cut food on plastic cutting boards knows that the knife blade causes many grooves on the board's surface, as plastic is a very soft material.

This causes two main problems.

1. Scraped parts are very difficult to clean and become perfect places for bacteria, which can hide and survive even after the cutting board is washed in the dishwasher.


According to the FDA (Food and Drug Association) Food Code:
Cutting surfaces, such as cutting boards and blocks, that become scratched may be difficult to clean and sanitize. As a result, pathogenic microorganisms transmissible through food may build up or accumulate. These microorganisms may be transferred to foods that are prepared on such surfaces.
2. Grooves and scratches are consequences of small chunks of plastic cut off from the board. While cutting, you produce microplastics that remain attached to food and enter your stomach.
Microplastics and why they are risky for customers
Microplastics are plastic particles less than five millimetres wide.
In this article published by News-Medical.Net, we read that microplastics might:
act as irritants and cause cancer
absorb microorganisms and toxic chemicals
be endocrine disruptors, thus interfering with normal hormone function
interfere with fetal brain development
affect normal brain development in children
Besides the risks linked to human health, microplastic contamination is now one of the world's main environmental concerns.
Interesting research in the article Microplastic pollution in seawater and marine organisms across the Tropical Eastern Pacific and Galápagos tried to quantify microplastic in oceanic surface water and marine organisms of human consumption.
To determine the levels of microplastic pollution at sea, they collected water samples across a 4000 km trajectory in the Tropical Eastern Pacific and Galápagos archipelago, covering an area of 453,000 square kilometres. Furthermore, they collected 240 specimens of 16 different species of fish, squid, and shrimp, all of which are consumed by humans.
They found microplastic particles in 100% of the water samples and marine organisms.
We can just imagine the consequences for people's and our planet's well-being.
Can we reduce the amount of microplastics?
Changing our habits to a more sustainable approach is the best way to reduce plastic production and contribute to safeguarding our own health and that of our planet.
Choosing sustainable kitchenware tools, such as custom wooden cutting boards, is an important step in this process.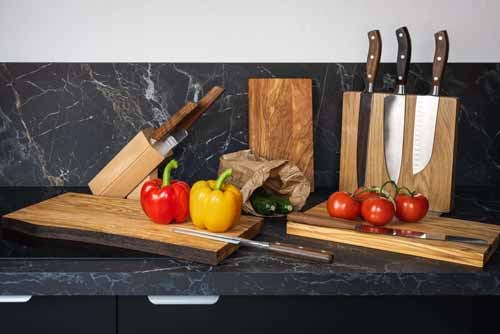 Many people are more conscious today about environmental issues, and they are even willing to spend more for products that don't cause any damage to themselves or the environment.
They expect to find eco-friendly alternatives in stores, and brands strive to satisfy their needs.
If you want to stay ahead of competitors and be in line with current trends and customers' requirements, you should offer wooden kitchenware items in your catalogue.
Wooden cutting boards are safer and more hygienic than plastic ones for four main reasons:
So-called end-grain wooden cutting boards have self-healing properties, so they are less likely to develop ruts or ridges. In fact, as you cut, the wood fibers separate, allowing your knife blade to pass through, but as you lift your knife, the resilient wood fibers come back together without any visible damage.
Besides being more durable, wood is therefore less likely to absorb bacteria and develop mold: even when food bacteria or germs contaminate a wooden surface, they cannot multiply and eventually die.


Wood doesn't conduct heat, so if consumers leave a wooden cutting board near a hot pot, it will remain cool. A plastic chopping board will melt.


Wooden utensils can be treated with special food contact paints (EN1934-2004) that protect them from moisture and

avoid the proliferation of mold and germs

. You can also apply

special antibacterial varnishes

with active metals for better durability and resistance to bacteria.


Custom cutting boards made of wood are an eco-friendlier alternative to plastic ones besides being elegant and beautiful. Ensure they are FSC certified, meaning that wood is properly gathered following rigorous rules of environmental protection and sustainably grown.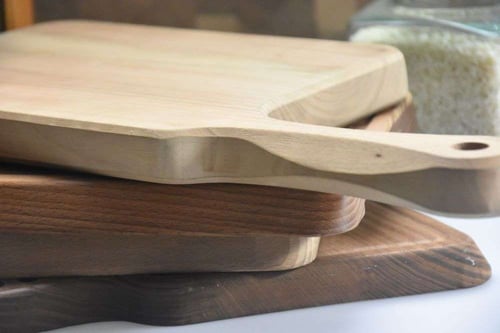 If you are looking for safer, more hygienic, and sustainable kitchenware tools that are also beautiful and prestigious, you should choose cutting board designs made of wood. It is also necessary to select a competent and experienced manufacturer with the right machinery and tools to create complicated shapes and unique designs to satisfy your clients' needs.
---
The Minelli Group, thanks to its deep experience in wood manufacturing combined with the use of the latest technologies and cutting-edge machines, can ensure the highest quality standards.
If you are looking for custom cutting boards, wooden knife handles, or any sort of kitchenware tool, do not hesitate to contact us!