Since ancient times, wood has been a popular choice for kitchenware objects. All our grandmas had wooden utensils in their kitchens, as they are very practical and comfortable to use.
Today, many people also love them because they can be real objects of design to display in the home. However, there are many other reasons why wood is the best cutting board material.
Let's discuss them in the following article.
The best cutting board material is wood. Here's why
Wood has been considered the best cutting board material for years thanks to its elegance, naturalness, and purity. Then it was replaced by plastic because producers thought plastic was cheaper and more durable.
Nowadays, with the spreading of the green trend, wood has once again become the preferred material for chopping boards and kitchenware tools.
Sustainability, however, is just one of the reasons why people and producers love wood.
1. Cost-effectiveness
Wood is a cost-effective material despite what most people think. Consider that it doesn't require moulds, it is easily machinable, and it can be machined quickly. It means that the initial investment is much lower compared with plastic.
Moulds are very expensive, and if something goes wrong, you must make a new mould, wasting time and money. Moreover, a competent supplier will let you optimize production costs:
providing realistic prototypes of the final product to anticipate possible problems that might cause unexpected costs
implementing an efficient production process to avoid wasting material and obtaining precise products, saving a lot of money
giving you the chance to test your custom cutting boards before actual production, producing smaller lots to understand which are more successful
sending products on time so that you can start selling as planned
offering customizable private stocking solutions so that you can save warehouse expenses, which are usually very high
2. Beautiful designs
Wood can be managed in amazing ways and treated with a wide range of finishing options to make real objects of design. Custom cutting boards can be considered decorative elements if your wood maker has the competency and machinery to create unique products.
Laser technologies and engravings, for example, can be used to create complicated deco and drawings (besides branding the object). Unique finishing techniques as well as varnishes and painting can be used to create prestigious products according to your clients' preferences.
Restaurants, too, may be interested in creating special cutting board designs that can be used as elegant and distinctive serving dishes, customized according to their needs.
3. Unmatched comfort
Wooden objects give a special feeling to the touch that makes them very comfortable to hold. Whether it is left rough or perfectly refined, wood provides a unique tactile experience.
Moreover, it is naturally shock resistant, making vibrations only slightly felt even if touched with a knife.
4. Extreme durability
If treated properly, wooden cutting boards can last for years. Some special finishes can be applied to make the raw material water repellent, more resistant to impact, falls, chemicals, and moisture, ensuring very long service.
Even if a wooden cutting board gets cuts, it doesn't have to be thrown away as a plastic one does. You can easily sand the surface and then rub with some oil to make it look new again.
5. Increased safety
Wood doesn't conduct heat, so it is safer compared with other materials. If consumers leave a wooden cutting board near a hot pot, it will remain cool. A metal object, however, will become very hot and might burn your hand, while plastic will melt.
Also consider that, especially if closed-grained, wood is less likely to absorb bacteria and develop mold, resulting in a safer product for people's health. Even when food bacteria or germs "contaminate" a wooden surface, they cannot multiply and eventually die. Plastic cutting boards, however, are more likely to trap the microorganisms in cut marks and transfer them to food.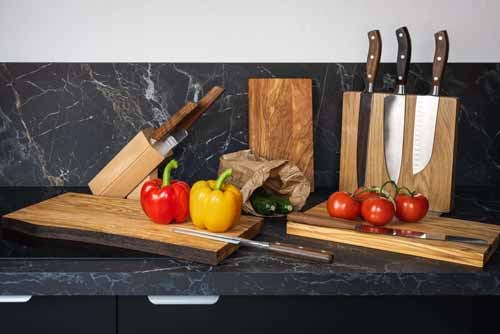 Wooden utensils can be treated with special food contact paints (EN1934-2004) that protect them from moisture and avoid the proliferation of mold and germs. Special antibacterial varnishes are available that contain active metals that guarantee better durability and resistance to bacteria.
6. Eco-friendliness
As mentioned above, the green trend is spreading today, and more people prefer buying sustainable items that do not damage the environment.
Wooden chopping boards are an eco-friendlier alternative to plastic ones besides being elegant and beautiful. Ensure that they are FSC certified, meaning that wood is properly gathered following rigorous rules of environmental protection and sustainably grown.
Sustainability, in fact, does not concern just the raw material but also involves the entire production process. Each step, from the collection of the raw material to manufacturing and distribution, must be as sustainable as possible.
---
In this article, we have discussed why wood is the best cutting board material, with a focus on the characteristics that make it better than other materials, such as plastic. However, finding an expert manufacturer is necessary to create state-of-the art objects and customize them according to your and your clients' requirements.
Minelli S.p.A. has decennial experience in wood manufacturing and invests a lot of time and money to get the newest technologies and create the highest-quality wooden products in the market.
If you need more information, contact us!