Wooden cutting boards have a strong connection with the past. Our grandmas probably had one in their kitchens, and they remind us of our childhood.
Today, however, cutting board designs have evolved to become elegant and prestigious objects that people love to display in their homes.
In this article, we discuss the transformation of the chopping board from a simple utensil to a real object of design.
Wood is the best material for cutting board designs: here's why
Today, consumers are more demanding than ever before about the objects they buy, especially homeware. They expect to be able to customize them according to their needs, often following the criteria of naturalness and sustainability.
This tendency derives from increasing attention to a healthier lifestyle that involves the food we eat and the need to establish a deeper connection with nature.
People are not satisfied with just buying: they want to be able to choose according to their specific requirements.
Regarding food and food preparation, kitchenware tools assume a key role, and they must meet precise requirements in terms of quality, sustainability, and durability.
Wood can be the element that brings tradition and innovation together, especially if combined with other materials to create even more glamorous and prestigious cutting board designs.
Combining the primitive soul of wood with the most cutting-edge finishing options will result in a unique and inimitable product.
Cutting boards are not just kitchenware tools
From being just a simple kitchenware object, the cutting board has evolved together with increasing general interest in the world of cuisine and attention to the taste of genuine food.
In many prestigious restaurants today, chopping boards of different shapes and designs are used as serving dishes because of their robustness and elegance.
They can also represent the history of served food and transmit its energy, from the strong taste of the famous Lardo di Colonnata served on an olive cutting board to the ephemeral consistency of a mango mousse with raw Sicilian red prawns served on a cutting board made of stone or other eco-friendly and durable materials.
Stay ahead of the green trend with the most innovative materials
Cutting boards have been made of wood for a very long time, and wood manufacturers often chose locally available raw materials, evaluating their strength and functional characteristics before aesthetics.
Nowadays, you have many alternatives and can select from a wide range of colours, finishing options, and materials to satisfy even the most demanding customer.
After years of indisputable exclusiveness of wood as the preferred material for cutting board designs, plastic became producers' first choice but then was replaced by more conscious choices in line with the spreading green trend.
People love wood again today for its elegance, purity, and naturalness. Some prefer when it's left rough in order to appreciate its natural color, veins, and nodes. Others want to customize it according to their preferences, applying different paintings, varnishes, engravings, and laser finishes, or they choose to combine it with other innovative and sustainable materials.
The most expert wood makers can offer a wide variety of innovative materials that respect our eco-system and can even derive from scraps.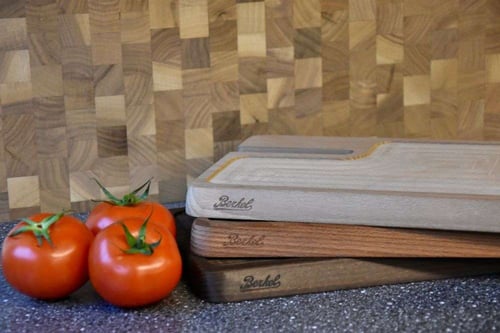 Corncobs and paper fibers, for example, are properly treated with vegetal resins to create safe and innovative conglomerates that have less of an impact on the environment. Discarded pieces of textiles can be used as decorative elements, too, to make eye-catching and funky designs.
The newest cutting boards made of wood combined with innovative eco-friendly materials are the most exclusive trend today. They can satisfy the needs of people who want to move toward a healthier, more ethical, and organic lifestyle, having an exclusive and cutting-edge wooden product at the same time.
---
The Minelli Group wants to take advantage of this new approach, offering products that combine wood—our core business—with ecological materials that will let you gain a competitive edge in today's increasingly demanding market.
People are now more informed and aware of environmental problems, and they look for materials that can contribute to safeguarding the environment.
Our wooden components respond to all the standards dictated by the market in terms of sustainability and safety. They are FSC certified, i.e., gathered from responsibly managed forests, not damaging the biodiversity of our ecosystem and respecting local communities and workers.
We recently underwent an EcoVadis Audit and received a highly positive rating in terms of environmental, labor & human rights, ethics, and sustainable procurement impact.
We have been managing wood for more than 80 years. We know its characteristics, tolerances, strengths, and weaknesses, so we can treat and enhance it in the best way possible to create state-of-the art products.
If you are looking for unique cutting board designs or have any questions, contact us right now!