Enabling customers to keep up with new market trends by developing innovative and cutting-edge products should be the goal of a reliable supplier.
This often requires great technical skills, expertise, and specific tools as well as creativity and a desire to keep on experimenting with new applications and designs.
In today's article, we want to discuss a case study involving the creation of colored cutting board designs.
How we created colored cutting board designs to satisfy clients' requests
Differentiation is the key to be competitive in the market. It means creating a product that is unique compared with others—one that people are willing to spend more to buy.
To do that, a competent wood manufacturer must be willing to spend time studying the latest trends, customer demand, experimenting with new techniques, and finding the most innovative solutions to offer a successful product.
A unique object—something that no one has ever offered before—can command premium prices that clients will pay, as they will recognize the added value.
Beautiful cutting board designs personalized according to your clients' requests and standards can make the difference and let you stand out in the market.
One of the latest projects Minelli had to deal with was a request for colored cutting boards.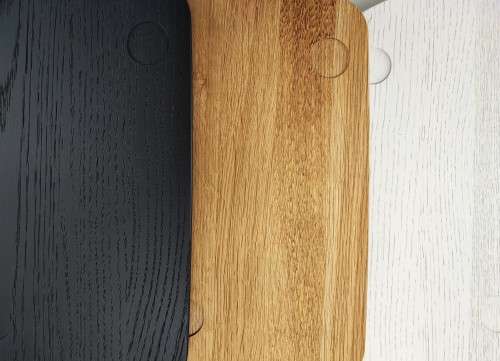 What is the problem with colored cutting boards?
When you use a knife to cut food on a wooden cutting board, the knife blade inevitably comes into contact with the cutting board surface causing some grooves.
If you varnish the cutting board, the knife blade will remove the paint. The kitchenware item will then be ruined, aesthetically ugly, and immediately look old even if used only a few times.
A product that is not durable is doomed to fail, especially in today's competitive and extremely demanding market.
How did Minelli solve this issue?
Cooperating with customers and studying all possible ways to meet their needs are core values of the company.
A great experience in wood manufacturing and in-depth knowledge of the raw material let us find the right solution to the problem: a colored food contact oil that does not spoil with use.
And even if the cutting board is cut, it doesn't have to be thrown away. You can easily sand the surface and then rub it with some more oil to make it look new again.
Consider that oil is essential to protect the cutting board and make it beautiful and durable. Oil effectively soaks into the wood keeping it smooth and supple, and it also keeps it from absorbing moisture and cracking or splintering as well as developing bacteria and moulds.
Moreover, the protective layer prevents any juice or liquid from staining the cutting board surface.
By applying a colored oil, you can customize the cutting board design while protecting and nourishing it.
It is the perfect solution to make a special and distinctive product without using any chemical that could damage the environment.
Our client could then offer a sustainable and customized wooden cutting board that was exclusive and innovative.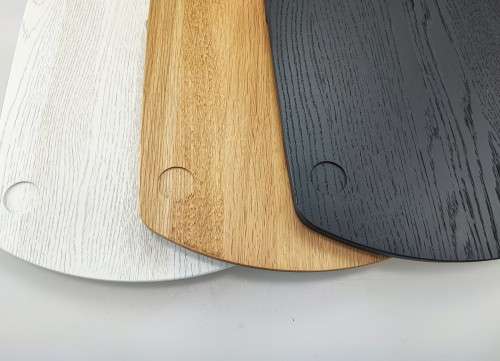 How to choose the right wood manufacturer
Spending time choosing the right partner is crucial to get the products you and your clients' want. A reliable wood manufacturing company works hard to meet clients' requirements and has the right expertise and modern machinery to manage wood properly. It is proactive in proposing and suggesting new solutions to meet customers' expectations and requirements, combining functionality, durability, sustainability, and elegance.
Wood can be enriched with many types of finishes to satisfy individual needs, but you must choose a wood maker that can offer a full range of finishing options, from traditional to the most innovative ones.
Just in this way you can gain a competitive edge in today's demanding market.
---
At Minelli, we always try to create unique and distinctive products and collaborate with clients to satisfy their requests.
Thanks to our decennial experience in wood manufacturing and our internal R&D department, we always develop new ideas, processes, styles, and techniques to make glamorous, beautiful, and functional objects with the highest-quality raw material.
We use only FSC/PEFC-certified wood, thus responding to all the standards dictated by the market in terms of sustainability and safety. Accordingly, we can produce 100% sustainable cutting board designs to offer in your catalogue.
If you need more information or have a project in mind, contact us right now!