The finish is one of the most important aspects of wood gun stock manufacturing, as it determines how durable, strong, and glamorous the product will be.
An expert wood maker can offer a wide range of options, but how do you choose the best gun stock finish to satisfy your clients' requests?
Let's discuss the topic in the following article.
The best gun stock finish is also sustainable
Today, innovative manufacturing companies can't ignore the social context in which they operate and must consider more ethical values that go beyond profit. The safeguard of the environment and the respect of local communities are crucial.
However, many firms often neglect the protection of the environment, ignoring the consequences on our Planet and on people too, as their purpose is the sole pursuit of profit and maximum competitiveness.
Those companies that aim at becoming a point of reference in the market must make more conscious choices, integrating environment-friendly policies in their procedures.
Wood is by nature a sustainable material, but there are some points you should evaluate
First, wood must be FSC certified, which means that it comes from responsibly managed forests and provides environmental, social, and economic benefits to local communities without damaging the environment.


Second, verify that the company follows the principles of a circular economy model, reusing and recycling scraps and discarded materials that are produced in large quantities during wood manufacturing.
Third, consider transportation logistics: if production plants are located where the raw material is gathered, the effect on the environment will be lower.
Finally, a sustainable company should include organic water-based lacquers in its production line. These types of lacquers are created with ingredients derived from recycled materials and renewable sources, i.e., water and organic resin, with a very low content of VOC (volatile organic compound).
For these reasons, these lacquers have less of an impact on the environment compared with petroleum products thanks to the drastic decrease of CO2 emissions during the production process.
Water-based lacquers can reduce the use of products resulting from oil refining as well as carbon dioxide emissions.
These characteristics of water-based finishes are comparable to those of petroleum-based ones, guaranteeing perfect and beautiful results without damaging the environment and reducing atmospheric pollution.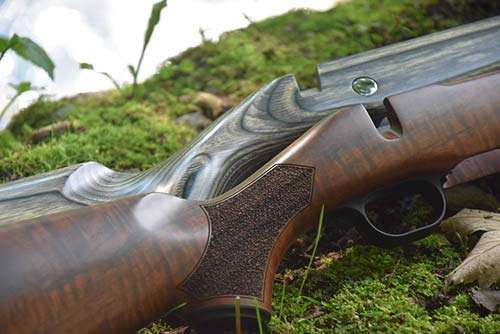 Choosing the best gun stock finish is crucial, as well as selecting a reliable supplier with a great focus on sustainability.
Choosing the best "low environmental impact" gun stock finish is essential for a successful product
Wood is a prestigious and resistant material, but to preserve its characteristics, it must be managed properly. Hundreds of types of wood exist in nature, each with its own peculiarities.
It means that every essence must be treated with specific coatings and finishes to ensure it is protected from dust, moisture, impact, and wear.
The right finish also makes wood more elegant, beautiful, and prestigious.
The finish will affect the level of protection, covering, durability, renovation, and aesthetics of the final product.
The wood manufacturer you select must be able to advise about the best gun stock finish depending on the type of wood and the result you want to obtain.
How do you know if your supplier is highly skilled?
Even if there isn't a wrong or right finish for a specific type of wood, some work better than others in certain situations and for specific purposes.
Besides the classic paints (polyurethane and acrylic), there are:
oil, oil + wax, and oil + wax + polymer finishes
water-based finishes
polymer coatings
soft-touch finishes
glossy finishes
embossing
dipping
enamels
hot embossing
laser engraving
A competent wood manufacturer must be able to offer the full range of finish options and know which is the best one to use in each specific case.

You must ensure that the company you select:
produces many different types of wood products (e.g., shotgun stocks and grips, risers, rifle accessories, and carbine stocks) and has extensive experience in wood manufacturing
has advanced technologies and tools to prepare and manage the raw material, from the sanding and polishing phases to the application of the final finish
can rely on strong relationships and collaboration with the world's leading producers of wood finishing materials and can offer all the options available in the market
has an eco-friendly approach both in terms of manufacturing processes and

use of materials
The last point is especially important today, as people are increasingly aware of environmental issues and look for ways to help safeguard the environment.
Wood is a natural material, but this is not enough: the entire production process─from collection of the raw material to the manufacturing and distribution phases─must be as sustainable as possible, following the rigorous standards and rules imposed by the market.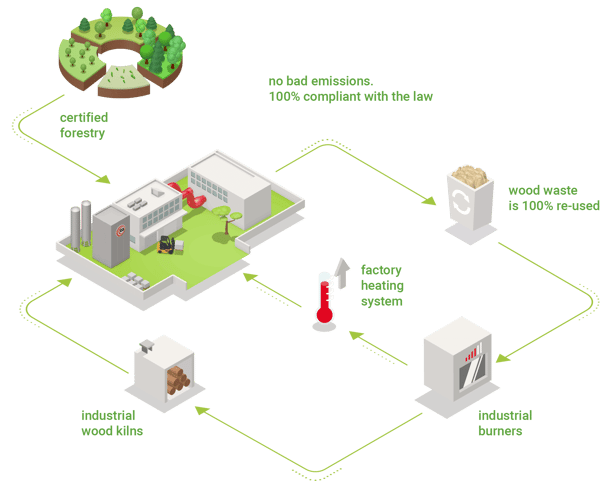 You need a highly qualified expert that coordinates and supervises the different phases, being aware of the interactions between the various elements (right type of wood, technology, and finishing materials) to create a state-of-the-art product.
---
Minelli S.p.A. has been operating exclusively in the solid timber sector for eighty years, creating very different types of products, e.g., wooden packages, caps, brushes, gun stocks, toys, hand tools, and leisure, sport, and outdoor items.
Thanks to our decennial experience in wood manufacturing, we have gained the necessary competencies to select the best gun stock finish and apply it in the most precise and durable way.
We can rely on the most advanced technologies as well as innovative automatic processes and robotic arms to sand and polish the raw material, providing the same high-quality standards for each production lot.
Moreover, we were among the first to be certified by the FSC when it was not a standard yet.
We also recently underwent an EcoVadis Audit and received a highly positive rating in terms of environmental, labor & human rights, ethics, and sustainable procurement impact.
If you need more information or have a project in mind, book a free consultation with our experts right now!