In the U.S., many enthusiasts are willing to pay a lot of money to have new custom rifle stocks each year.
For this reason, very often, the supplier needs to offer something innovative, new ideas, or new styles in line with new market trends or, better, to anticipate them.
In this article, we want to give some advice on how to understand what consumers look for, anticipate new trends, and discover the most sought-after designs.
Discover the latest innovations in custom rifle stocks and satisfy your clients' needs
In the weapon sport market, customers want to purchase a new product each year according to current trends and their preferences. They always look for new and more innovative wooden stocks that are also solid, durable, functional, and comfortable to hold.
As specialized firearms collectors, they recognize a good product compared with a bad one, and they won't accept an item that doesn't correspond to their standards.
Most gun stock makers don't dedicate time to observe the market, as they are very busy to promote their products or follow the requests of their clients. However, if you don't spend time looking at your customers' preferences, you won't be able to understand their requirements and needs.
The problem, however, is not the supplier. It's the wooden rifle stock maker.
The manufacturer you select should be a real partner that cooperates with its clients to satisfy each request:
observing the market
investing in R&D
proposing new ideas and new styles
providing unique solutions
adapting new products to your clients' existing models
Want to discover the latest gunstock designs?
Click here and get our Nextgen Gunstocks 2022 catalogue!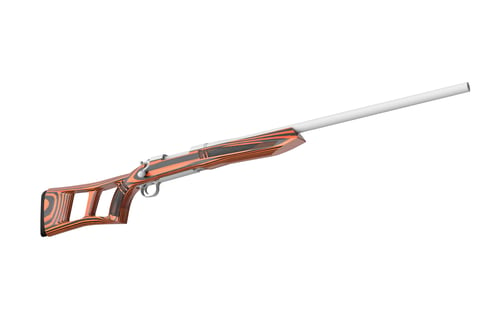 If the wood manufacturer cannot provide innovative, top-quality, and precise products, delivering each order as scheduled and respecting deadlines, the client will be affected too.
How to offer maximum quality and a wide range of choice in your catalogue
Besides protection, many people purchase wooden firearms just for the pleasure of it: they consider them prestigious and ask for custom rifle stocks.
To satisfy even the most demanding requests, you should find a manufacturer that is able to suggest innovations and new product developments.
Moreover, to create perfect objects, the manufacturer must have a deep knowledge of wood, the right machinery, tools to process it, and a team of experts able to solve each possible issue.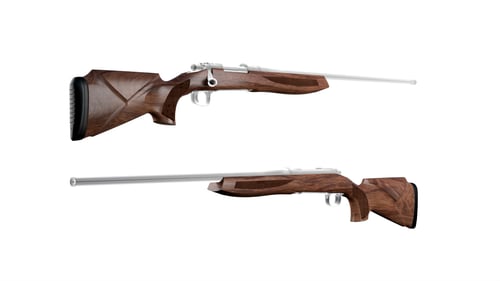 Choosing a European or U.S. supplier is the best choice
Many clients are also dissatisfied because they often must wait a long time to receive their products, especially today. The current supply chain crisis is causing significant problems in terms of delays, increasing costs, and shortages of goods, as most products and components come from the East, especially China.
Relying on an expert manufacturer that produces in your own country lets you solve this problem, delivering your products as scheduled.
Moreover, with a U.S. or EU manufacturer, you will be able to see and touch physical prototypes of your custom rifle stocks to understand if they correspond to your project or if some modifications are necessary.
Some suppliers can also provide:
private stocking solutions, allowing you to order specific quantities just in time with virtually instantaneous delivery
dedicated production lines, to produce rifle stocks in small lots and apply the desired finish on demand, depending on the market trend and clients' preferences
Today, there are many possibilities of personalization and finishing options in the market, but not all manufacturers have the right machines, tools, and expertise to manage wood properly or have access to the full range of finishing materials available.
Clients look for innovative designs, new styles, and unusual finishes to get a unique and inimitable product each year.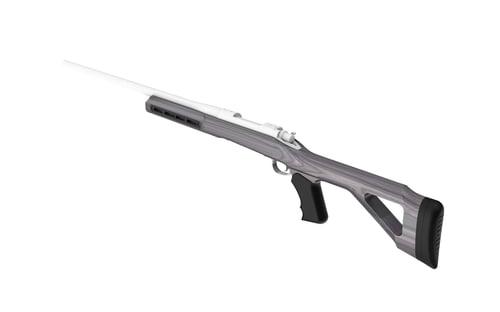 If you are looking for the newest gunstock models,
look at our Nextgen Gunstocks 2022 collection!


Relying on an expert supplier that constantly observes the market, has innovative technologies and software, and supports you during the entire process is essential to gain a competitive edge and satisfy your clients' needs.
---
Thanks to our decennial experience in wood manufacturing and our innovative machines and tools, we can guarantee integrated and tailor-made products that meet clients' requirements.
The Minelli Group is known all over the world for the quality and precision of its gun stocks as well as its ability to maintain the highest standards in compliance with tolerances and strict quality controls.
Thanks to our internal R&D department, we are aware of the latest trends, and we can offer the most modern and innovative custom rifle stocks in the market, adapting them to your clients' existing models.
If you need some information or have a project in mind, do not hesitate to contact us!