Gun stock refinishing is one of the most important steps in wood manufacturing, as finishes are applied to protect the wood and make it more resistant, durable, and beautiful. Different techniques and finishing options give specific results that may vary depending on the type of wood and clients' requests. In this article, we want to discuss the most common and appreciated gun stock refinishing techniques.
Why is gun stock refinishing important?
Gun stock refinishing can increase the perceived value of the firearm, as it will look more elegant and prestigious. Clients will be willing to pay more for it, especially collectors and firearms enthusiasts, who are more interested in the aesthetical aspect of the rifle or gun and want to add it to their collection. This does not mean, however, that gun stock refinishing is just about aesthetics: some varnishes create a protective film on a wooden surface that protects it from dust, moisture, and impact, making it more resistant and durable. It is important for hunters and professionals who use their firearms outside in all kinds of weather.
How to keep up with trends and be competitive
If you want to offer your clients the most recent innovations in gun stock refinishing techniques, you must rely on a supplier that constantly observes the market and knows what consumers are looking for. Clients are often annoyed and bored if a supplier always offers the same products. Buyers of firearms are very demanding and passionate about what they want to purchase. They often have a collection of many rifles and gun stocks, and they want to enrich it with the latest and most innovative model, the most beautiful one, customized according to their preferences. They expect to find cutting-edge mechanisms and original, unexpected finishings.
To satisfy them, you must ensure that the wood manufacturer you select is able to always offer new ideas and new styles in line with market demand. For example, sustainability is one of the most significant trends today, which cannot be ignored. Even if buyers of gun stocks are more interested in the aesthetical and functional aspect of firearms, offering organic water-based lacquers can provide a competitive advantage.
These types of lacquers are produced with ingredients derived from recycled materials and renewable sources, i.e., water and organic resin, with a very low content of VOC (volatile organic compound). For these reasons, their production process drastically reduces CO2 emissions. By introducing in your catalogue products finished with organic water-based lacquers—always guaranteeing the highest quality—you can capture the attention of buyers who care about safeguarding the environment.
It is important that your supplier has access to a wide variety of finishing options so that you can widen your catalogue with many different products to satisfy even the most demanding clients. Buyers of gun and rifle stocks look for personalized products built just for them.
For example, gun stock engraving is really appreciated. This gun stock refinishing technique requires competency, precision, ability, and the right technology to be performed well, which is why an expert manufacturer can achieve incredible results. If done well, this technique can be successfully used to customize wooden gun stocks and is really appreciated by consumers.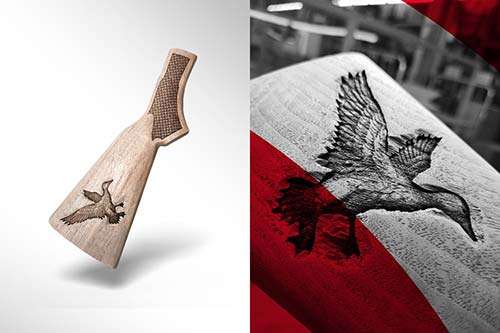 The choice of wood manufacturer is especially important
When dealing with gun stock refinishing, it is important to select a supplier that has a deep knowledge of the raw material as well as cutting-edge technologies and tools to properly manage each type of wood and prepare it to apply the right finish. Choosing one gun stock refinishing option over another does not depend just on aesthetics: each type of wood (and there are hundreds in nature!) has its own peculiarities and characteristics, so it must be treated properly to ensure a perfect result. For example, you cannot use the same techniques to manage a hard wood and a laminated one. The wood maker must have the right technologies for all phases of the manufacturing process, including sanding (to smooth wood and create a uniform surface to prepare it for the next treatments), polishing, and applying the final finish.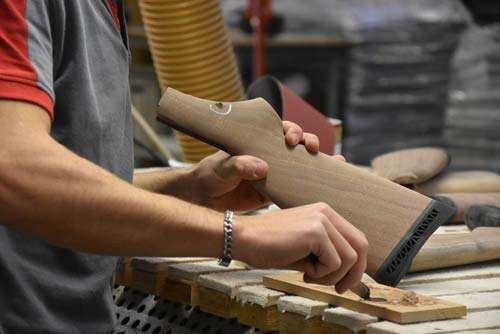 Being able to choose the best finish for a specific type of wood and manage it properly requires experience and know-how that you can only get from a leading company.
---
Minelli S.p.A can rely on decades of strong relationships and collaboration with the world's leading producers of wood finishing to offer all the options currently available on the market. Thanks to our internal R&D department, we can develop new and unique materials and ensure constant improvements. Automatic systems and robotic arms execute the refining and polishing phase of each component, which guarantees precise and consistent results.
Do you have a project in mind? For any requests, do not hesitate to contact us: click here!