Over the last twenty years, the most noticeable change in the firearm stocks market has been the growth of synthetic stocks. It is undeniable that these types of stocks have some advantages, but they are far to be comparable with traditional wooden gun stocks. The reasons are many: we talk about them in this article.
Wooden gun stocks: why do so many people love them?
For many people—especially Americans—a wooden gun stock is not just an object.They are the most loved part of their passion, something to take care of, enjoy, update or customize.
Moreover, wood gun stocks have been used to supply the Military arms from the Revolutionary War and the Civil War to World War I and World War II to Korea and Vietnam. Those arms that today still represent an icon of freedom.
If you want to know something more about the American gun culture, look at this video from the CBS Sunday Morning:
Here are the topics we will cover in this article:
A brief history of firearms stocks
The first objects resembling modern guns appeared in China during the 10th century. They were very simple bamboo rods holding the gunpowder. During the 13th century, gunpowder arrived in Europe and was used in cannons during battle. It wasn't until the 1860s, however, that the first rapid-fire firearm, the Gatling Gun, was invented by Richard Gatling. This device needed a four-man crew to operate and was used by the Union forces during the American Civil War. Around 1878, John Moses Browning created the first real shotgun, which was very similar in design to modern ones; in fact, some of the components he designed are still in use today. In 1884, Hiram Maxim created the Maxim gun, which became the standard military weapon used in World War I. The semi-automatic rifle, the AR-15, arrived in 1959. The military and the sport rifles and pistols were equipped by wooden stocks and grips, until this year.
Synthetic gun stocks appeared in the mid-1960s when Chet Brown created the first fiberglass stock. The Fibermark, the first synthetic-stocked factory rifle, appeared in the 1980s. Today, many mixtures of graphite, boron, fiberglass, urethane, plastic, and other materials called "composite" are available and appreciated by many shooters. More tradition-oriented shooters, however, will shiver merely at the idea of talking about plastic stocks. Many collectors as well as professional hunters and shooters consider the noble essence of wood as fundamental and valuable, especially if compared with cold and charmless synthetic materials.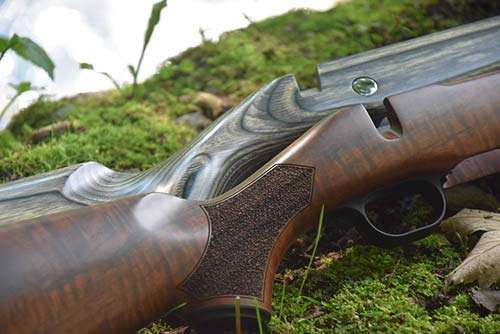 Let's discuss the difference between a wooden gun stock and a synthetic one and why the former is better.
Wood gun stocks vs. synthetic ones: a comparison
Objectively, both wood and synthetic stocks have some advantages and disadvantages. Plastic is physically incapable of absorbing water, so this material is moisture and water resistant. Wood, on the contrary, is a living material that naturally absorbs water but, if managed properly, it can become resistant to water and humidity. One of the most important advantages of wood, in fact, is that it can be treated with specific types of finishes that can literally transform it. Special finishes make it water-resistant, solving the problem of swelling and shrinking due to moisture. Another option is choosing laminated wood made from one or two types of wood cut into strips and glued together. Besides being highly distinctive and beautiful, laminated wood stocks are very strong and stable and unlikely to suffer the problem of deformation caused by environmental factors.
Another point to consider is weight. Many people claim that synthetic stocks are better because they are lighter than wood, but this is not always an advantage. One of the most important factors to ensure a precise shot is stability. If the stock is too lightweight, it will be much more prone to vibrate and flex under recoil, resulting in less accuracy. Wooden gun stocks are the ideal weight for shooting, guaranteeing the expected shot.
Some people think that wood, being a natural material, makes wooden firearms less accurate than plastic ones. This statement is wrong for two reasons:
Wood, by nature, absorbs impact better than any other material, especially plastic; movement and vibration of the rifle action will be diminished, which will increase accuracy.
Wood gun stocks can be bedded, which means providing a rigid aluminium foundation for the gunstock by creating a stable and close-fitting bearing surface between the gun's functional parts and the stock, avoiding any deformation during the shot or after the recoil. If bedding is not possible, a cylindric marquetry made of metal can be inserted in the stock to support and reinforce it.


If you want to discover how to technically improve your firearms, download the free ebook!

The last point to evaluate is price. Surely, polymer base is cheaper than wood, but, when you make a synthetic stock, you must calculate and consider the remarkable cost of the mould. The current demand asks frequently for new models, additional finishing and accessories, making the original project old in a short time. As a consequence, you often don't have enough time and volumes to amortize the heavy initial investment. Vice versa, wood gun stocks production doesn't need big investments to start a new project, allowing easy and fast prototyping, and being very flexible in quantities with a low production batch. This processes allow to satisfy any upgrade the end user requests.
Moreover, wood is prestigious, elegant and gives an added value to the rifle or the handgun. Some types of wood are very expensive (e.g., fancy walnut or ebony) but even the most economical ones give a special warmth that is unthinkable with other material. One must also consider that wood can be enhanced with many types of finishes that can make it even more precious. Besides the classic paints (polyurethane and acrylic), there are oils; water-based, soft-touch, and glossy finishes; polymer coatings; and also decorative techniques, such as embossing, dipping, or engraving, that make wood gun stocks real objects of design.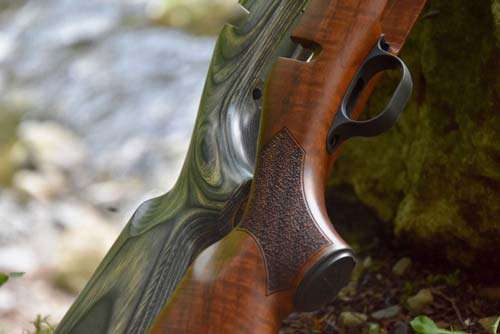 Usually, synthetic materials looks poor and low-quality, and they won't provide the same aesthetics and feel of wood or a comparable shooting experience. Then it depends on what you are looking for. If you prefer a top-quality product, an object of design that is aesthetically beautiful, durable, and strong and ensures a perfect and accurate shot and a satisfying shooting experience, wood must be your first choice.
Sustainability in the wooden gun stock market
Today, sustainability is a crucial issue that can't be ignored. Pollution caused by nonbiodegradable materials is a big problem. Both companies and customers are aware of this and are trying to find eco-friendly alternatives to plastic objects in all industrial sectors. Wood is a natural material and—if collected following the strict guidelines for environmental and forestry protection established by the Forest Stewardship Council (FSC)—it doesn't cause any damage to our planet, even if thrown into the ocean. There is also the possibility to choose water-based organic finishes created with ingredients derived from recycled materials and renewable sources to get a completely ecological product. These special lacquers can guarantee exceptional technical performance, but their impact on the environment is very low if compared with petroleum products, with a drastic reduction of CO2 emissions.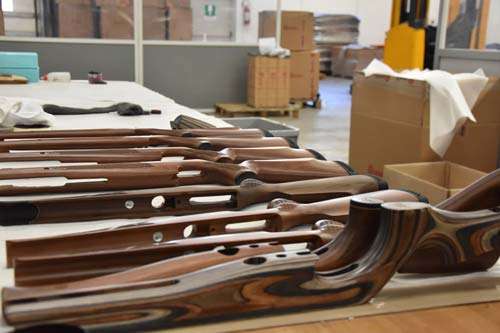 It must be emphasized that the most engaged manufacturers are trying to make the entire production process more sustainable and reduce their overall carbon footprint, adopting sustainable logistics (i.e., shortening the process that raw materials go through to reach production) and a circular economy model.
---
Minelli S.p.A has been operating in the timber sector for more than eighty years and is one of the first companies to be certified by the FSC. Thanks to our innovative automatic processes and technologies, we can guarantee top-quality products, always paying great attention to safeguarding our environment.
If you are looking for a reliable supplier of wooden gun stocks, we are at your disposal. Do not hesitate to contact us: click here!