Are you looking for innovative custom rifle stocks to find new business opportunities?
Here's a new product that will let you gain a competitive edge—something you have never seen before: resistant and flexible, modern and traditional, elegant, beautiful, and very effective at the same time.
We call it CarbonWood™: discover now!
The next generation of custom rifle stocks are made with CarbonWood™
Today, people increasingly love technical stocks both for materials, e.g., carbon and titanium, and for shapes that are more sportive and military. Many hobbyists prefer to go hunting and shooting with arms that are very similar to those used by professionals.
From an aesthetic point of view, these arms are technologically advanced, have military shapes, and are made with special materials, but performance is typical of a traditional stock.
CarbonWood™ custom rifle stocks have been created to meet this new market trend.
We patented a unique and innovative material that mixes carbon fibres and wood to produce a new generation of stocks, combining the performance of carbon and the beauty, elegance, and prestige of wood.

Why combine carbon and wood for custom rifle stocks?
Carbon fibre stocks are increasingly sought after today, as they are very lightweight, robust, durable, and have a modern and technological design. Carbon stocks, however, are rigid, cold, and poor in absorbing vibration and recoil. They also lack the beauty, warmth, elegance, and tradition typical of wooden stocks.
CarbonWood™ lets you have all this in a single stock.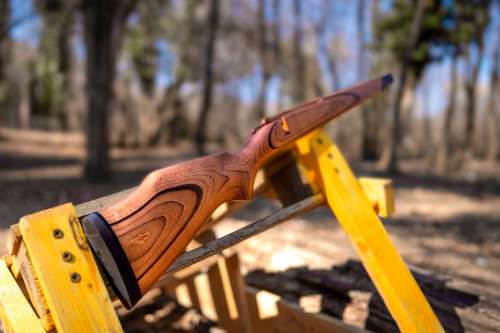 Rifle stocks made with this exclusive material are:
40% lighter in weight than traditional wooden stocks
as solid, resistant, and durable as carbon fibre stocks
comfortable, as they absorb vibration and recoil
a mix of traditional wood and innovative carbon fibres
pleasant to the touch thanks to the tactile experience of wood
elegant and prestigious
easily customizable without the need for expensive moulds
The last point is very important. Every time you need to modify a carbon fibre stock, you must create a new aluminium mould, which is very expensive and takes a lot of time. Wooden firearm stocks, on the contrary, are very flexible and can be easily adapted to their owner's requirements to create a completely tailored object.


Would you like to discover more about CarbonWood™?
Click here!


CarbonWood™ stocks can be completely customized according to clients' needs
This flexibility depends on how these new custom rifle stocks are made.
Carbon-laminated stocks are composed of multilaminate layers of wood (walnut, birch, or poplar) glued together, with four carbon fibre layers positioned in the weakest and most stressed areas of the stock to guarantee vertical and longitudinal improved strength.
Carbon layers make the stock lighter, more resistant, solid, and durable while still having the flexibility and beauty of wood.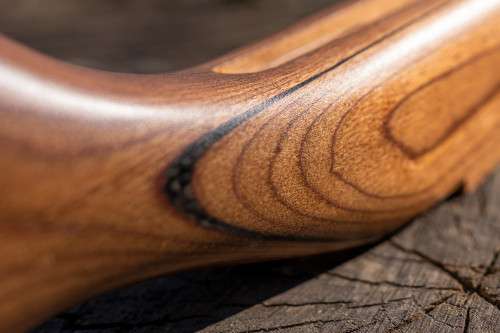 This process requires a sophisticated production technique. Carbon, in fact, is an inert material. It means it does not undergo any significant physical or chemical transformation depending on external conditions. Wood, however, is a living material, moving constantly, expanding, and shrinking depending on temperature and other external factors.
Combining these very different materials requires expertise, competency, the right machines, technology, and tools as well as special glues to integrate carbon into wood and make it a unique block of material.
The result is an exclusive laminate made with carbon and wood that passes all quality, stress, and resistance tests as well as tests of shooting accuracy and precision.
Our CarbonWood™ rifle stocks
Engineers, experts, designers, and technicians of The Minelli Group worked together to create our CarbonWood™ products and make them solid, durable, and extremely lightweight.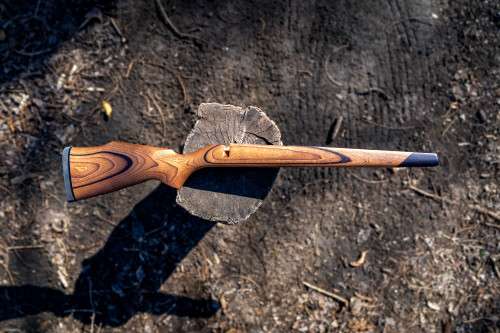 The dark stripes you see in the picture are the carbon fibre layers. They are positioned in the most stressed and critical points of the stock to protect them, avoiding breakage and deformation, ensuring a top-quality product.


Discover more about CarbonWood™:
click here!


Are you looking for new business opportunities?
Being able to offer rifle stocks made with CarbonWood™ allows you to widen your catalogue with something exclusive and extremely innovative that will let you get ahead of the competition.
The Minelli Group is known among the gun stock makers for its unique and top-quality products made using the latest technology, software, and made-for-purpose machines.
Our internal R&D department constantly observes the market to stay in line with the latest trends and customer demand. This is why we created CarbonWood™ custom rifle stocks, which are tied to the past but focused on the future.
If you would like to receive more information, contact us right now!