When you decide to buy a new firearm, you might have some doubts about the features to choose. It depends on your objectives and expectations, but firearms with wood stocks are still a very good option. In this article, we want to explain why you should choose a wooden firearm stock whether you are a professional, a beginner, or simply a collector.
Wood firearm stocks: the reasons to choose them
In the past, gunstocks were mostly made of wood, with no alternatives. In the mid-1960s, however, synthetic gunstocks appeared, and many different materials and composites have been used since then to create firearm stocks. Many people appreciate them, but certain factors need to be considered before buying a plastic gunstock. Let's discuss them.
Accuracy
Accuracy is one of the most important goals for every shooter. It means hitting the target consistently, intentionally, and repeatedly. The more stable and comfortable the gunstock, the more accurate you will be. Plastic or fiberglass precision rifle stocks are strong enough to resist to recoil and barrel swing, but they are not comparable to wooden stocks. Wood firearm stocks, on the contrary, are properly rigid, and strong and do not flex or move under any shock due to the natural wooden traits.
The last improvement is the aluminum bedding. Being a natural material, wood can be upgraded introducing a metal insert into the stock to create a solid and stable bedding on which the action is assembled. This fine process aims at creating the best matching technically available on the market between action and stock. The Alu-beddin system as well as the integrated Alu-pins make the wooden stock the right choice to guarantee the accuracy that any shooter want.
Comfort
The wooden gunstocks you choose must be comfortable to hold. If the gunstock doesn't fit the shooter correctly, accuracy and precision will be highly affected, and the shooter will be more incline to stop his soothing training or hunting day. Wood has the great advantage of being easily customizable without the need for expensive moulds. It means that wood firearm stocks can be customized according to customers' needs and preferences not only from an aesthetic point of view but also from a structural one without wasting time and money. If you need to modify your plastic stock, you need to create a new mould, which is very expensive and takes a lot of time. Wood firearm stocks can be adapted to their owner's requirements to create a tailored object.
Elegance
Plastic and fiberglass do not provide the same warm feeling as wooden firearm stocks. For many enthusiasts, firearms are much more than simple objects: they want to feel them in their hands. Even the most economical type of wood gives a sense of elegance and prestige that is unthinkable with other materials.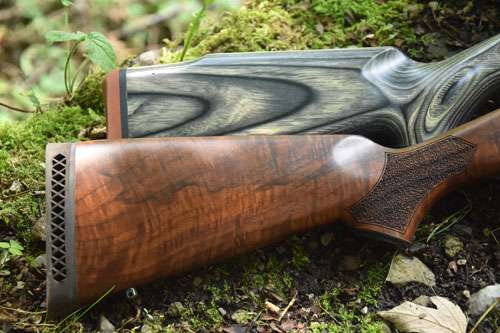 Wood can also be enhanced with many different types of finishes that make it even more beautiful and glamorous. For example:
oil, oil + wax, and oil + wax + polymer finishes
water-based finishes
polymer coatings
soft-touch finishes
glossy finishes
embossing
dipping
enamels
hot embossing
laser engraving
These are just some of the possibilities to transform even the simplest wooden piece into a real collector's item. Finishes don't have just an aesthetic function. They also serve to protect the raw material and make it more resistant to water, moisture, humidity, and other environmental conditions (it is especially important for hunters).
Eco-friendliness
One point that can't be underestimated today is plastic pollution. Plastic is part of our daily lives, and we throw away an incalculable numer of plastic objects every day. The problem is that tons of plastic drain into the oceans, causing significant problems for our ecosystem, which is why many companies are trying to find ecological alternatives to plastic. They want to reduce the risks and damage to our planet. Wood is the perfect solution. It is a natural low-carbon material, biodegradable, and normally present in nature. If collected following the rules imposed by associations for environmental protection, such as the Forest Stewardship Council (FSC), it may also provide benefits for the forests' life cycle and the natural ecosystem. New trees are planted as mature ones are harvested, and, as they grow, these young trees absorb atmospheric carbon and store it in their fibers. This is only possible when forests are well managed.
A wood firearm stock is a sustainable choice besides guaranteeing higher technical performance and a better aesthetic appearance than plastic stocks.
---
Minelli S.p.A can offer a wide range of top-quality products, which can be customized according to your needs. Thanks to our innovative machinery and technology, we can guarantee precise and perfect results. If you want more information or have a project in mind, do not hesitate to contact us!