Today, the market for bows and crossbows is constantly increasing. People use them for sporting activities such as hunting and shooting. They consider archery a sport but also a sort of meditation, as it requires silence and concentration.
If you would like to have fun, get more feeling with your bow, and stay in contact with nature, you should consider widening your collection with a perfect wooden recurve bow.
Let's discuss the most important points to evaluate in the following article.
How to offer top-quality wooden recurve bow risers in your catalogue
We are used to spend most of our time in closed environments, as the home or the office. Some recreational activities are also organized in gyms, swimming pools or sports centres.
On the contrary, archery and bow hunting are practised in nature. They are characterized by a deep contact with the natural environment and each possible atmospheric condition—such as wind, rain, and heat—and by a unique fusion of man and the animal.
Uncontaminated spaces of natural beauty are the ideal habitats for archers.
Hunters compete on almost equal terms with the animal. The arrow can kill the pray, but the animal can be lethal for the man too. Success or failure of the hunter is equal to the animal's chance of survival.
For these reasons, archery represents an ancestral memory for human beings, a challenge that must be faced with tactic, shrewdness, mimicry, and even fleeing.
The most modern tools don't let you enjoy the pleasure and the allure of this discipline. That is why even today archers and hunters prefer a wooden recurve bow, whether it's longbow or take-down.
Wood is the best material for bow risers, as it is ecological, sustainable, and ideal for those people who want to have a deeper connection with nature.
Many archers love the sense of naturalness and warmth that wood conveys, and they prefer an eco-friendly raw material for their bows. It is also the most traditional choice for bow risers, as it has the right balance between strength, stability, flexibility, and a lighter weight.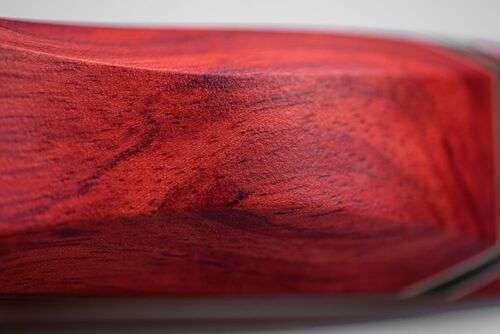 The riser is the part of the recurve bow that must be tailored to the shooter's body type and specific needs to ensure top performance. If perfectly made and customized according to individual requirements, it can last for years. That is why people are more willing to spend money for this crucial component.
You must be able to offer the highest quality products in your catalogue, relying on an expert wood manufacturer.
The competency of your supplier is essential to ensure functional, beautiful, and ergonomic products.
What are the most important factors to consider about risers?
Possibility of customization
Customization concerns technical but also aesthetical aspects.
From a functional point of view, your manufacturer must be able to design each product according to your clients' requests and create bow risers that fit perfectly for the shooters.
Wood has a great advantage: it doesn't require moulds, so each modification can be made easily and at a lower cost. In this way, the riser will be created specifically for the person holding it, depending on his needs.
Aesthetics is important too. You should offer beautiful and prestigious risers, highly desirable for people and different from competitors' products.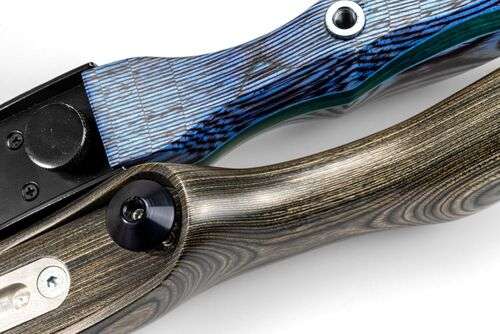 Many people believe that wood has many production constraints and that customization is limited. It depends on the supplier you select.
The best bow manufacturers that operate exclusively in the timber sector and create different kinds of wooden products will be able to offer a wide range of prestigious wood essences—e.g., ebony, briar-root, zebrawood, and bubinga—as well as may finishing options.
Wood, in fact, can be enhanced with many types of finishes.
Besides traditional paintings, an expert wood maker should be able to offer:
polymer coatings
soft-touch finishes
glossy and metal finishes
water-based finishes
embossing and laser engraving
Moreover, a competent wood manufacturer is able to advise about the best treatment to use in each specific case. As many types of wood are available in nature, some finishes work better than others in certain situations and for specific purposes.
Quality control over products
Today, a great many suppliers claim to be expert in producing wooden recurve bow risers, but their products are poor and low quality. An expert EU/USA manufacturer must make deep quality tests to ensure that the riser is strong and resistant.
In the video below, you can learn more about the quality tests a competent manufacturer must make to guarantee the quality of the riser and its performance:
simulating shooting at the maximum tensile load of the bow string
verifying the maximum breaking load
ensuring the accuracy of the gluing process
confirming the correct assembly of the components
If your manufacturer doesn't perform these tests, bow risers can't be high quality.
Dedicated production lines
The most advanced technologies and the newest systems are essential to create perfect bow risers. Smart factories today base their processes on automation, interconnectivity, machine learning, real-time data, and they exploit the power of Industry 4.0.
If the company you select has dedicated production lines for each product manufactured, you can be sure they are more flexible and precise.
Being flexible during production is necessary: it means, for example, having the opportunity to produce bow risers in small lots and only when clients request them to ensure greater efficiency. A leading company will be able to guarantee the same quality for a single product and for one million pieces.
---
At Minelli, a dedicated team of experts will help you reach your goals and standards in terms of design, product specifications, and cost-effectiveness.
All our production lines use CNC (computer numerical control) machines, mechanical arms, automatic processes, and are set up and monitored by experienced professionals. We perform manual and automatic quality control over risers to ensure they are state-of-the-art.
We also offer a dedicated warehousing solution to provide "just in time" service.
Our wooden recurve bow risers offer a great opportunity for low-risk investment while still ensuring high-quality products that are completely customizable and in line with the parameters of environmental and forestry protection dictated by the market.
For further information, contact us right now!