It seems simple: you just have to hold your rifle and hit the intended target. In the beginning, if you miss your target, with some training and experience, you may think you will succeed every time. It could happen, but if you don't have a high-quality stock that suits you perfectly, the likelihood of being successful is reduced. The quality of the rifle stock certainly affects to the rifle accuracy; in this article, we want to tell you how to recognize a high-quality, precision rifle stock.
Precision rifle stocks: how to make the right choice
Today, many types and variations of stocks are available, and many manufacturers think that creating precision rifle stocks is quite simple. Producing a perfect, accurate, high-quality rifle stock is complicated, however, and especially so if you don't have the right machinery and tools. You can understand then that choosing the right rifle stock that best meets your requirements is also not easy. If you are a professional hunter or shooter or just starting out in these activities, you need the right rifle—one that is ergonomic and comfortable. What characteristics distinguish average firearm stocks from a high-quality, precision rifle stock? Let's discuss them.
The material of the stock is important
Wood is undoubtedly the best material for high-quality stocks, both from an aesthetic and a functional point of view. Traditional stocks are made of walnut: they are elegant, prestigious, and beautiful and can be treated and enriched with any sort of finish. Wood is a natural, warm material that provides a unique sensory experience, which is unthinkable with any other material. Moreover, wood plays a significant role in the precision of rifle stocks, as it absorbs impact better than any other material, is athermic, ensures a very soft recoil, and has an ideal weight for shooting. Wooden stocks are therefore more accurate than plastic or stainless steel, and you can feel "this is my rifle" embracing it.
From an aesthetic point of view, the beauty of the finish is a differentiating element
To determine if a stock is high quality, you can cheek at its finish. Managing wood is not easy: expertise, deep knowledge of the raw material, and innovative machinery are required to create a precise and beautiful product. If the stock is embossed, engraved perfectly, or enriched with an innovative finish, such as soft touch or extra oil, it means that it's made with passion by expert manufacturer always looking for reaching the best quality.
A high-quality stock is comfortable
Feeling good while shooting is an important consideration when choosing a precision rifle stock. The accuracy of the shot, in fact, depends a lot on how you feel when you hold your rifle. Some experts say that thumbhole rifle stocks, which have a hole for the thumb in the stock, are more comfortable than traditional ones, as the grip is improved, and they provide more control and stability, but this is a very personal issue. A high-quality stock is more likely to be comfortable because it is designed and created according to users' needs.
If the stock breaks after a few shots, it is low quality
Precision rifle stocks produced by expert manufacturers won't break after a few shots because competent suppliers are always improving their products based on problems they have observed. Several breaking test need to be done before any high quality stock issue. Reinforcing screws, aluminum pillars and other additional accessories complete the rifle accuracy and durability all the rifle lifelong. An example is the bedding: bedding a rifle stock means introducing a metal insert in the gunstock, which protects the stock from recoil shock, preventing it from being damaged, and improve its accuracy. This makes gunstocks and rifle stocks much more solid and resistant, avoiding breakage. Only those manufacturers that produce top-of-the-market products are able to do that. You can't know if a stock will break before buying it, but you can choose a reliable rifle stock manufacturer that guarantees expertise, quality, and the right tools.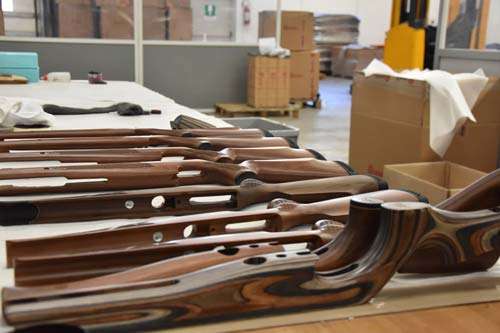 Choosing the right supplier is crucial
As discussed above, the role of the wood maker is fundamental to ensure a high-quality, precision rifle stock. Processing wood is hard, so you need to know where your wooden stock is produced and who is the manufacturer. Make sure he is reliable: if he has decades of experience in wood manufacturing and is currently suppling the best and famous gun companies, it means you can trust him.
---
Minelli is the only supplier that can provide full-bed products where the metal component is processed together with wood. It means that the gunstock is a unique block of material (wood + aluminum) that is completely integrated. If bedding is not possible, the company has also developed cylindric marquetry made of metal that can support and reinforce the gunstock during the shot. Minelli's goal is to guarantee integrated and custom-made products that meet clients' standards. If you are looking for top-quality products, please click here to contact us!