If we have learned anything from the COVID-19 pandemic, it's that the globe is interconnected. Safeguarding our planet and its resources is crucial for future generations and their well-being. That is why we should consider global sustainability as the only way to keep the entire planet working in conjunction with nature.
What is the link between custom-made wood products and sustainability? Let's discuss in the following article.
How to achieve global sustainability with custom-made wood products
To understand what global sustainability means, we should first define sustainability.
Basically, sustainability means using only the necessary quantity of materials to avoid depletion of natural resources. Global sustainability considers the world as a whole and focuses on how individual resources are being exploited globally.
For example, cutting down trees in the Amazon rain forest does not just alter the Brazilian eco- system. The effects of deforestation are global and include loss of biodiversity, reduced water cycling (and rainfall), and contributions to global warming.
Cutting trees, however, is not always bad. There is a significant difference between deforestation and responsible forestry. Sustainable forest management practices ensure the conservation of forests, as for every tree harvested, another one replaces it.
Custom-made wood products that are FSC certified are manufactured with raw materials coming from responsibly managed forests, thus providing environmental, social, and economic benefits to local communities.
It is necessary to pay attention to the products you buy to ensure they are made respecting the environment. Not all custom-made wood products are really eco-friendly, as sustainability doesn't concern just the raw materials but also the entire production process, from collection to manufacturing and distribution.
The role of the wood maker is crucial when talking about sustainability
How do you understand if the wood manufacturer can provide 100% green products?
Here are some aspects to consider.
It complies with the most rigorous standards
Besides FSC (Forest Stewardship Council) certification, there are other regulations a wood maker should comply with:
EUTR 995

was introduced in 2013 to control operators and traders that place wooden products on the European market. Its aim is avoiding the circulation of illegally harvested timber, ensuring stronger monitoring of the supply chain.
The Lacey Act is very similar to EUTR 995 but is valid for trade in the United States.
REACH (EC 1907/2006) is a European Union regulation that aims to protect human health and the environment from potential risks caused by chemical substances.
It tries to reduce a company's carbon footprint
Carbon footprint refers to the total amount of greenhouse gas emissions (including carbon dioxide and methane) that are caused by the activities of the organization.
Some good practices can reduce it. For example, shortening the process that raw materials go through to reach production helps reduce pollution and the consequent effect of vehicle emissions. This can be done by producing wooden components where raw material is collected, making transportation logistics more sustainable.
It adopts a circular economy model
A good manufacturer pays great attention to how it manages and reuses resources, trying not to waste discarded materials.
In a circular economy, scraps should be used to create other items. If, for example, the manufacturer produces a cutting board, a knife chop, or a bath brush, it uses discarded materials to create wooden blocks that are carefully stocked for future production of smaller items, such as wooden toothbrush handles or wooden cosmetic caps.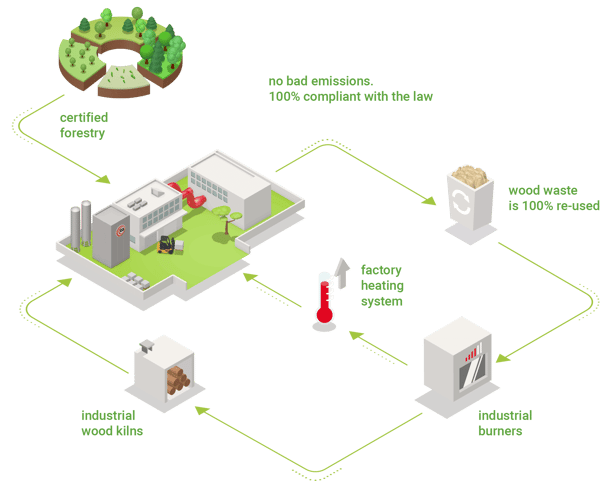 This practice significantly reduces waste.
It uses energy-efficient implants and technologies
A wood maker that really cares about the environment constantly monitors its energy consumption, periodically conducting specific audits to understand the whole picture of the company's energy usage and increase its efficiency.
The manufacturing industry is particularly important for providing jobs, improving living standards, and economic growth. To increase global competitiveness and brand awareness, however, sustainable manufacturing should be a primary objective for companies in this sector.
Sustainability is increasingly important for consumers
A 2021 report commissioned by the World Wildlife Fund (WWF) and conducted by the Economist Intelligence Unit (EIU) revealed a 71 percent increase in popularity of searches for sustainable goods over the past five years, with continuing growth even during the COVID-19 pandemic. The research was conducted across fifty-four nations around the world.
Therefore, custom-made wood products are one of the top sustainability trends.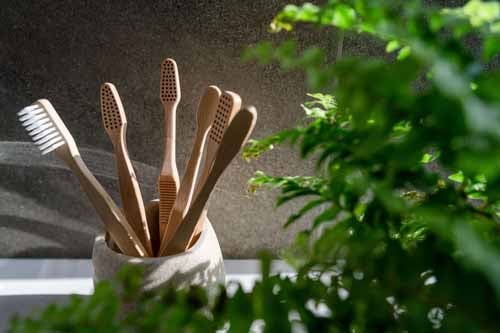 In this article published by Forbes, we read that Generation Z is emerging as the sustainability generation: most shoppers prefer to buy sustainable items, and they are willing to spend even 10 percent more on them. Along with millennials, they are also the most likely to base their decision regarding whether or not to buy on a company's environmental and social efforts.
It means that offering sustainable custom-made wood products is essential to stay ahead of trends and attract new customers.
---
Our approach integrates an environmentally friendly vision with the design of unique and distinctive objects customized according to clients' needs. Thanks to our deep experience in wood manufacturing combined with the use of the latest technologies and cutting-edge machines, we can ensure the highest quality standards.
The Minelli Group has always focused on sustainability: in 1999, we were among the first to be certified by the FSC when it was not yet a standard.
We recently underwent an EcoVadis Audit and received a highly positive rating in terms of environmental, labor & human rights, ethics, and sustainable procurement impact.
This demonstrates our sincere dedication to pursue a responsible manufacturing model that respects the environment as well as all ethical aspects of business.
If you are looking for sustainable custom-made wood products, do not hesitate to contact us!