People really love design, and they like the idea of having beautiful objects to display in their houses. Can wooden toothbrushes be considered objects of design? Yes. If manufactured precisely and attentively by an expert wood maker, they can be beautiful, unique, and comfortable to hold. Let's discuss this topic in the following article.
How to make wooden toothbrushes real objects of design
If you think about a toothbrush, you will often just consider its purpose to clean your teeth. You should certainly evaluate its ability to clean teeth, but you must also consider other elements, such as:
shape
customization
sustainability
Let's discuss these three points.
Why is the shape of wooden toothbrushes handles important?
The design of the toothbrush handle is important to ensure perfect cleaning. If it is ergonomic, it will help consumers find the proper brushing angle and feel more comfortable when brushing their teeth. Children who have not yet developed the necessary manual dexterity needed to adequately reach all of their teeth can also benefit from ergonomic toothbrushes. Ergonomics, in fact, is the science of improving the ease, safety, and efficiency with which people use products; therefore, wooden toothbrush design directly influences your oral health.
Even if the function of toothbrushes hasn't changed since they were first invented by the Babylonians and Egyptians around 3500–3000 BC, their design has evolved considerably. The first toothbrushes were made of wood, created by fraying the end of a twig or using a bamboo handle. Bristles were made using horsehairs, feathers, or bristles from pigs' necks.
The most recent wooden toothbrushes can be straight, angled, or curved to make them easier to hold and use. One of the advantages of wood is that is malleable and flexible and can be easily modelled if the manufacturer has the right tools. This raw material, however, is not easy to manage properly: you need a supplier that has a deep knowledge of wood and is able to guarantee ergonomic and perfectly smooth products that are safe for people. You must ensure that your supplier has both manual and automatic control over products, as they must not splinter and hurt someone's mouth. A competent manufacturer can also provide 2D or 3D prototypes, imitating the shapes of plastic toothbrushes to create an ergonomic, functional, and comfortable object.
The possibility of customization is crucial
Toothbrushes are generally placed next to the sink in the bathroom and are part of the home furnishings. People would appreciate the possibility of customizing their toothbrushes and making them beautiful.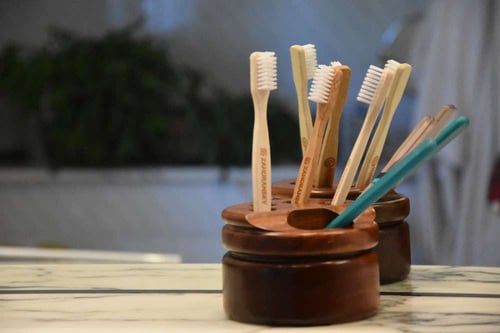 Including wooden toothbrushes in your catalogue is a good decision, but you must find an expert manufacturer that can create unique and perfectly made objects to stand out from the competition. You must ensure that your supplier has access to a wide range of finishing options to personalize your product. Some examples are:
oil, oil + wax, and oil + wax + polymer finishes
water-based finishes
polymer coatings
soft-touch finishes
glossy finishes
dipping
enamels
hot embossing
laser engraving
These are just some examples of possible finishes that can be used to customize wooden toothbrushes, but you must also ensure that your supplier only uses paints and varnishes approved by the FDA (Food and Drug Administration), as they must be safe to be used in your mouth.
Sustainability makes wooden toothbrushes successful
People love wooden objects not just because they are beautiful, elegant, and prestigious but also because they are sustainable. Consumers today are increasingly aware of the problem of plastic pollution: they know that reducing plastic usage is key to helping our environment. One of the simplest things you can do is substitute plastic toothbrushes with wooden ones. Many people are even willing to pay more to help safeguard our planet.
Offering wooden toothbrushes in your catalogue is a good idea. The supplier has a critical role: you must be sure that he uses only FSC-certified wood, which means that it is gathered following strict guidelines of forest protection. It is also important that the entire production process is as sustainable as possible.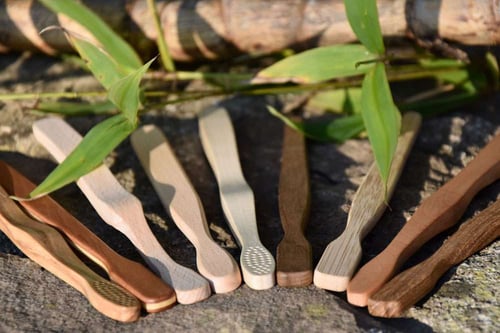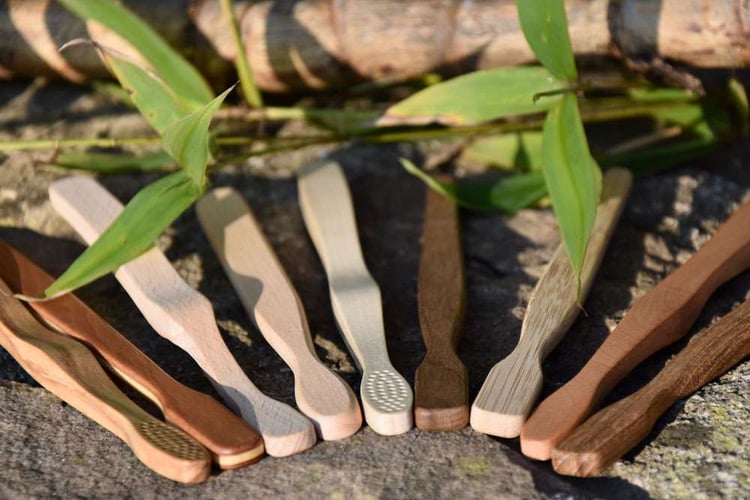 For example, transportation logistics (i.e., the movement of goods from one place to another) has a great environmental impact due to pollution caused by vehicle emissions into the atmosphere, on the land, or in the water. If your supplier has production faclities where raw material is collected, he can limit the impact of transportation on the environment. You should consider all these points when selecting your supplier.
---
The Minelli Group has been operating exclusively in the timber sector for eighty years, and its abilities and top-quality products are recognized and appreciated all over the world. We pay great attention to sustainability, and we always try to manage our resources properly to reduce our carbon footprint and make our processes more sustainable.
If you are looking for a reliable partner or have a project in mind, contact us right now: click here!