Managing wood is difficult. It is a very flexible and malleable raw material, but manufacturers must have a deep knowledge of its specific tolerances to get perfect results. They must know which type of wood is best to create certain products and how to select the best finishes. How do you understand in advance if your supplier can create top-quality oral care products? Let's discuss this question in this article.
Wooden oral care products: suggestions for success
Today, you can choose from many wood manufacturing companies, but they are not all the same. If you want to offer top-quality wooden oral care products in your catalogue, you must rely on a competent and expert wood maker that can manage wood properly and advise you about the right decisions to make. To ensure long-term success, you must be able to create functional, safe, and ergonomic wooden oral care products that you can sell at competitive prices.
If you are looking for a wood manufacturing company that can satisfy your needs, you must consider certain points that can help you know if it is truly reliable.
Here are our suggestions to make the right choice.
1. If you want to widen your catalogue with wooden oral care products, find a manufacturer that specializes in wood manufacturing.
Many manufacturing companies manage very different types of raw materials (e.g., metal, plastic, and wood). The level of precision and knowledge that these wood makers can guarantee cannot be compared with that offered by a company that operates exclusively in the timber sector.
Wood requires specific competency and cutting-edge machines and tools to create beautiful and functional oral care products.
Moreover, a specialized wood manufacturer will be able to advise about the best finishes to apply to get completely safe and durable oral care products. Since toothbrushes and interdentals are generally kept in a humid environment, they must be treated with water-repellent finishes to avoid the proliferation of bacteria and mold. Making the right choices from the beginning will let you save a lot of time and money during the next steps, with a significant impact on costs, appearance, and success of the product.
2. If you decide to include sustainable objects in your catalogue, you must ensure that the manufacturing company follows environmental protection parameters.
Including oral care products in your catalogue lets you sell them to those people who are especially conscious of problems linked to plastic pollution and looking for sustainable alternatives to plastic objects. These consumers want to know that the oral care products they buy are produced following rigorous standards of environmental protection by an environment-oriented company.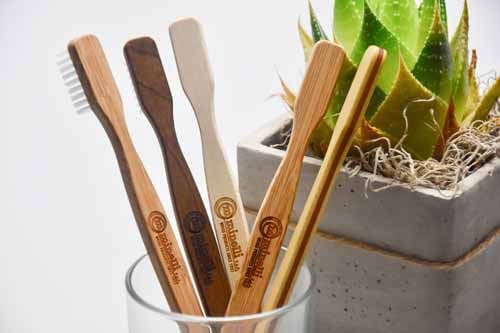 For this reason, you must ensure that the wood used is FSC certified (which means that the raw material is gathered according to precise market regulations, and that new trees are planted where others are cut). You must also ensure that your supplier maintains a strong focus on sustainability during the entire manufacturing process. Sustainability, in fact, doesn't concern just the raw material. For example, look at the way in which they reuse discarded materials and evaluate if they try to reduce carbon emissions caused by transportation logistics.
3. If you want to offer oral care products that are also ergonomic and beautiful, ensure that your supplier has the right machinery and tools to create them.
Producing a small number of perfect products is easy, but creating one million perfect oral care products requires competency and expertise, advanced technologies, and machines as well as experts who know how to use them.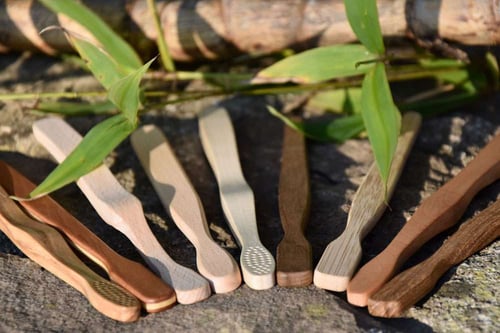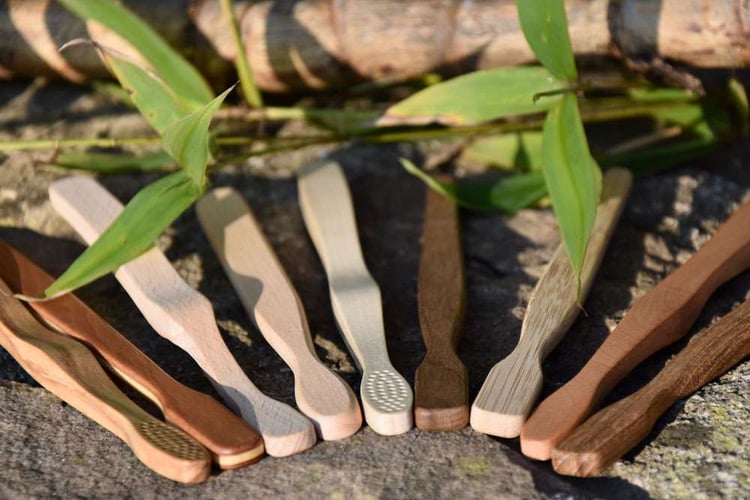 Before choosing your supplier, consider its machinery: if it's modern, innovative, and cutting-edge, it means they can guarantee precision for each production lot. To understand if they have a culture of continuous innovation, ask if they invest in automation, machine learning, interconnectivity, and real-time technologies. Also determine if they have a manual quality control process. Automation and software are certainly important, but human control is also essential to obtain precision and consistency (e.g., to ensure that wooden oral care products don't have splinters, which can be risky for people).
4. If you want to make a smart investment, consider the possibility of testing the market before production.
We all know that toothbrushes and interdentals made with plastic are the norm and that—although consumers really love wooden objects both for aesthetics and ethical reasons—wooden oral care products can be difficult to sell. That is why you must be able to produce just a small quantity of wooden predrilled handles and oral care products and put them on the market; then, after the assessment period, you can decide how to complete production. Adjusting production is a strategy that lets you avoid wasting money and resources, but not all companies are able to do that.
---
In this article, we have discussed the importance of choosing a competent supplier. This choice is crucial to get perfect oral care products—both from an aesthetic and functional point of view—and to balance costs and quality.
If you are looking for a reliable partner that specializes in wood manufacturing, Minelli S.p.A. is the right choice. We have been operating in the timber sector for more than 80 years, so we can guarantee perfect results and successful wooden products.
Click here to contact us!