The carbine stock is the part of the arm to which the barrel, the action, and the firing mechanism are assembled. To ensure an accurate shot, a perfect fit of all these components is necessary. In this article, we will talk about wood tolerances and their role in the accuracy, durability, and precision of the stock.
How the carbine stock influences shooting accuracy
When you assemble all the parts of an arm, even a micro-dimension makes a significant difference. If the carbine stock doesn't fit perfectly to the other components, most of the firearm parts are stressed and it could sometimes generate cracks.
To ensure that the wooden gunstocks you include in your catalogue are managed correctly, you need to rely on a competent manufacturer with a deep knowledge of wood.
Being a natural material, wood moves constantly, expanding and shrinking depending on temperature and other external factors. There are precise tolerances your manufacturer must know and respect to ensure a perfect result.
What does the word tolerances mean?
Tolerances are specific dimensional data properly calculated during the project development, considering the natural variations of the material. A primary concern of a competent supplier is to determine how wide the tolerances may be without negatively influencing the precision of the final object.
When talking about wood, you must consider three main issues:
wood tolerances are very tight
each type of wood has its own specific tolerances
nature has hundreds of different types of wood
To create an accurate and solid stock avoiding discrepancies, the supplier you select must know perfectly the characteristics of each type of wood and be able to manage them properly.
The problem is that many wood manufacturers also manage other materials, such as plastics or metals. If they adopt the same tolerances for all the raw materials, not considering the specific tolerances of wood, product fitting will be inaccurate, causing many problems for the client.
Just considering the precise tolerances of wood, the different components will be ready to be used and assembled, and the final product will be perfect.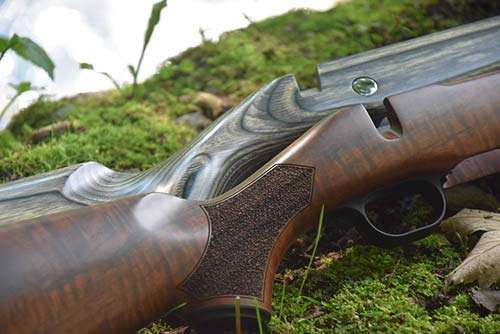 Wood drying method is also crucial to guarantee the proper dimension of any wooden gunstocks and components.
Shape and volume may warp over time if wood contains a high percentage of humidity. For this reason, an expert supplier will expose logs to the air for two or three months to follow the natural drying of timber and to ensure the right level of humidity before starting the last drying chamber process.
This step is crucial to preserve wood density and prevent possible future damage.
A manufacturer that operates exclusively in the timber sector will also have special drying chambers that ensure the correct degree of exsiccation before moving to production.
Besides the definition of the proper wood tolerances, the challenge for the manufacturer is to manage gunstocks considering these dimensions. Just using the most innovative 5 axis machines managed by CAM System, your supplier will be able guarantee the highest-quality stocks with the perfect fit for your customers. In this way, you will be sure that the rifle assembled with your stock is accurate and can hit any target.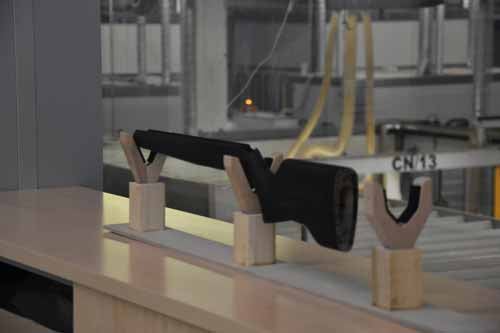 Choosing a company that specializes in wood manufacturing has many advantages, as it will:
have a deep knowledge of the raw material and its specific characteristics
have machines and tools designed to manage wood
be able to offer a wide range of finishing options, designs, and customization
have specific and optimized production processes to guarantee the highest quality whether for a single product or a million pieces
be flexible, being able to adjust production according to the market trend
be able to keep pace with new trends, technologies, and customers' preferences, constantly observing the market
Wood is the best material for a gun or rifle stock, but it's difficult to manage because of the different tolerances that must be considered.
Choosing a specialized supplier—with a decennial heritage and whose competencies have been demonstrated over the years—is a unique way to offer top-quality products in your catalogue at a competitive price. Quality is important, but gun stock prices optimization is crucial too.
---
The Minelli Group has been operating exclusively in the timber sector for more than 80 years and can guarantee professionalism and trustworthiness. We are the only supplier that can provide full-bed products where the aluminum component is processed together with wood at the same time. It means that the carbine stock is a unique block of material (wood + aluminum), completely integrated. This makes firearm stocks much more solid and resistant.
We are also very focused on sustainability: our raw material is FSC certified—as it comes from responsibly managed forests—and we can provide water-based lacquers that have a lower impact on the environment thanks to the drastic reduction of CO2 emissions.
If you have any questions, do not hesitate to contact us: click here!