Competition among producers of wooden toothbrushes is very high today, and they must find ways to differentiate themselves. They look for a partner that can help them be successful, offering a wide variety of products to meet each customer's needs.
Customization is therefore essential to gain a competitive edge as well as choosing the right finishing options. Let's discuss the topic in the following article.
Why should people choose a wooden toothbrush?
People are accustomed to use plastic toothbrushes in their daily oral care routine, as they easily find them in every supermarket. To convince them to buy a wooden toothbrush, you must offer something innovative and unique, which would be preferable to what they would normally purchase.
Consumers often decide to choose a wooden oral care product because of environmental issues. Wooden toothbrush handles are an eco-friendlier alternative, as they do not damage the environment once thrown away.
However, the sustainability question is not enough: if wooden products are ugly, poor quality, and badly manufactured, no one will buy them, even if they are more sustainable than plastic ones.
The solution is offering top-quality customized wooden toothbrushes
How do you do that?
Choosing an expert supplier is the only way to satisfy your customers' requirements.
Besides being able to offer a wide variety of finishing options and techniques, you must be able to create complicated and ergonomic shapes as well as drawings and deco on the handle.
Always in line with the green trend, a competent partner will allow you to customize your products with top-notch laser technology.
Why is laser technology eco-friendly?
Different from silk-screening or hot stamping, laser technology doesn't need any ink or added chemicals.
Whether you want to create your logo on top of the handle or have a more complicated deco and grip, you need the right technology.
Many wood makers still use pyrography or hot molding on wood, but laser robots can adapt to each shape with radial movements and different engraving depth to create even the most complex and technical design with the highest precision.
Wooden toothbrush handles must also be perfectly smooth and safe
Oral care objects come in contact with the mouth and gums. For this reason, they must be safe for people's health.
It means they can't have splinters and must be coated with a special formula approved by the FDA (Food and Drug Administration) that seals the wooden fibers and provides antibacterial treatment and be water repellent to avoid the proliferation of bacteria, molds, and fungi.
To provide wooden handles without splinters, wood must be carefully machined and sanded through a natural and painstaking process free from chemicals that respects wood fibers and produces perfectly smooth toothbrushes.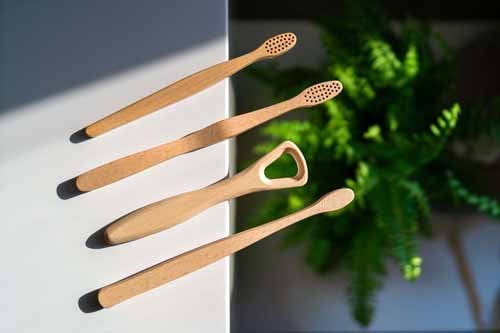 The handle must look polished before proceeding with application of the selected coating.
Besides aesthetics, finishes make the raw material more resistant to impact, falls, chemicals, and moisture, ensuring very long service and safety.
The supplier should be a real partner
Expert wood manufacturers are able to advise about the best finish to apply depending on your and your clients' preferences and needs.
They support you during each phase of the process to create products that correspond 100% to your initial project, even the most complicated.
If your supplier can also offer predrilled toothbrush heads according to your design, commercialization will be simpler, as you could test the market and adjust production accordingly.
Also ensure that each toothbrush is checked with sophisticated automatic systems for:
dimensional and functional aspect (size and shape)
milling accuracy (missing parts, dents, splinters, breakage)
morphological defects (open knots, heavy discoloration)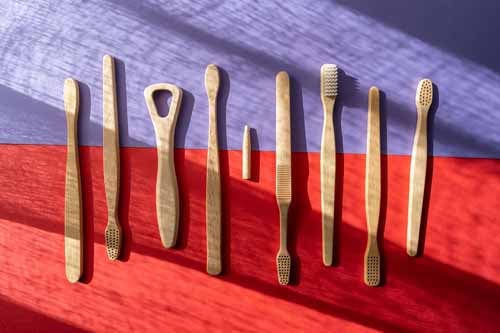 You will then be sure that your products are top quality and safe for customers.
---
Thanks to our visual control system of eight infrared video cameras that operate 360° all around the handle, the Minelli Group can guarantee the highest-quality wooden toothbrushes in the market.
Our advanced technologies and software let us customize each item according to your requirements, creating even the most complicated shapes, designs, and drawings while always keeping our processes as sustainable as possible.
If you need more information or have a project in mind, do not hesitate to contact us! Our experts are ready to satisfy even the most demanding requests.