Customization today is the key to create a successful customer experience and satisfy your clients.
Therefore, offering customized dental care products in your catalogue is essential to increase sales and be competitive in the market.
In this article, we want to give some advice to stay ahead of this trend and create attractive and functional products.
Why customization of dental care products is so important today
Not all clients have the same needs. In every industry, people expect businesses to deliver personalized options.
Consumers today want to be able to customize anything they buy whether online or offline so that it fits their individual needs.
The dental care industry is not an exception. Your clients must be able to differentiate themselves from competitors when displaying their products on the shelves of a store. Therefore, they expect you to offer unique and distinctive objects.
What does offering customized dental care products mean?
It means being able to offer many different personalizing options in your catalogue to allow your clients to decide what they prefer.
As you can understand, the role of the manufacturer is crucial, especially for wooden oral care products. If your supplier does not have specific tools, he won't be able to create personalized, beautiful, and functional objects.
Customization, in fact, can apply to both the shape of the products and the finish you want to apply.
Wood is a particular raw material, and it can be difficult to manage for different reasons:
It has very strict tolerances to respect
Being a natural material, wood moves constantly, absorbs humidity, and can slightly expand or shrink over time.
Tolerances are specific dimensional data properly calculated during project development, considering these natural variations of the material.
To create a precise and ergonomic wooden toothbrush, a competent producer must consider them in a very precise way.
Wooden handles, in fact, must be completed with bristles. If your supplier offers predrilled handles, drills must be perfectly made to ensure a precise fit. Only a competent manufacturer with a deep knowledge of wood can guarantee this requirement.
It could produce splinters
If not properly managed, wood may produce splinters, which are very dangerous for people, as they could injure their lips, mouth, or fingers.
The manufacturer must have specific machinery to sand the wooden surface and make it perfectly smooth.
He must also apply strict quality control—both automatic and manual—to guarantee perfect and safe products.
Each wood essence has its own characteristics
Hundreds of different woods are found in nature, and only a manufacturer that operates exclusively in the timber sector will know how to treat each one in the best way.
Besides greater expertise, he will also have specific competency and cutting-edge machines to create unique and original shapes as well as ergonomic design.
Today, consumers want to buy wooden toothbrushes and oral care products that are not only functional but also beautiful and comfortable.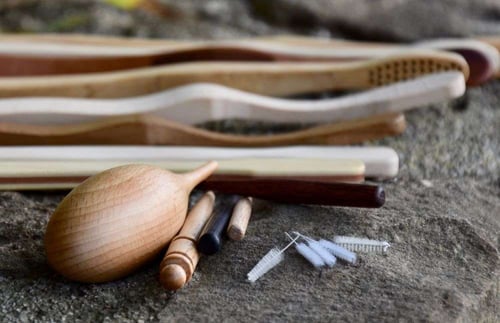 And what about finishes?
Your client must be able to choose among a wide range of finishing options to give a more glamourous appearance to wooden items.
For example:
oil, oil + wax, and oil + wax + polymer finishes
classic paints
water-based finishes
polymer coatings
soft-touch finishes
Other techniques, such as:
embossing
laser finishes
engraving
can be used to brand the product.

Remember that oral care products must be treated with safe coatings approved by the FDA, which is the agency that supervises product safety for people.
Besides aesthetics, finishes make the raw material more resistant to impact, falls, chemicals, and moisture, ensuring very long service and safety.
A specialized manufacturer will also be able to treat wood with special finishes that make it water-repellent, avoiding the proliferation of bacteria and mold.
The benefits of offering customization options
Here are some reasons why you should offer as many possibilities of personalization as possible:
It is an opportunity to place value on products
People are willing to pay more to get a special product made only for them. According to The Deloitte Consumer Review, one in five consumers who expressed interest in personalized products or services are willing to pay a 20% premium. Consequently, brands and companies will choose a supplier that can guarantee them.
You will be able to offer attractive dental care products
When you think about toothbrushes and interdentals, you don't consider them objects of design. The combination of wood and the right finish will contribute to create prestigious objects that consumers will love to display in their home.
This will increase interest from brands and companies.
You will increase your clients' loyalty
If buyers can take part in the design phase of the products, they will be more satisfied and involved. This increases the possibility that they will purchase again in the future.
---
Thanks to our professionals' decennial experience in wood manufacturing, the Minelli Group can help you find the right solution for your clients' requirements.
If you are looking for customized dental care products, do not hesitate to contact us!