Sustainability has become a popular topic today, as people are more conscious of the compelling problems linked to pollution and plastic usage. The increasingly growing "green" trend is spreading in all sectors, including the spirits industry, in which luxury and quality are very important. It means that sustainability and prestige can coexist. We talk about this topic in the following article.
Spirits packaging: why should you choose sustainable alternatives?
According to GlobalData's 2019 Q3 consumer survey, 71% of global consumers consider "quite" or "extremely" important for product packaging to be made from sustainable or renewable sources. Among the consumers surveyed, 25% believe it is also important for packaging to have a luxurious appearance.
People want their products to be premium quality and ethical at the same time, and it is especially true in the spirits packaging field, in which image and indulgence are paramount.
For many enthusiasts, spirits are real collector's items—something to display on their shelves. Not only is the content important but also the external appearance.
In this video, you can see some examples of spirits packaging designs that are sustainable and top quality at the same time.
As you saw in the video, liquor bottle caps are made of wood, which is the best choice for spirits packaging.
Wood is a luxurious material
Many types of wood are very expensive, prestigious, and even rare. Mahogany, teak, ebony, hickory, and cherry, for example, are some of the most precious woods currently on the market and highly sought after despite their high cost and low supply. Creating a spirits wooden cap with one of these essences makes the entire bottle elegant and precious. It is a true object of design. When compared with plastic, wood provides a unique sensory experience that is really appreciated by consumers. Touch, in fact, can't be underestimated: after seeing the product, people decide if it is worth buying by touching it. The warmth of wood allows people to have a positive tactile experience, and the finishing options available can emphasize this sensation if selected and applied in the right way.
Wood can be customized, making a product unique
Wood is intrinsically unique: two logs of the same type of wood will always be different due to knots, veins, colours, and shapes. Each piece of wood, however, can be customized according to clients' preferences and requests. Pad printing, serigraphy, laser engravings, digital printing, and spraying are just some examples of possible finishes. The most important point is finding a supplier that has access to the full range of finishes available in the market (a leading manufacturing company often has strong relationships with producers and can offer a wide range of finishing options). An expert manufacturer is also able to combine wood with other materials, such as plastic, metal, or glass, to create more innovative spirits packaging.
Wood is sustainable
Wood is a renewable resource that is available in nature, so it is a naturally "green" and ecological material. As consumers are increasingly committed to environmental issues, adding wooden components is a great choice to widen your spirits packaging catalogue. It is important, however, to ensure that the supplier you select follows strict market standards in terms of environmental and forestry protection. Wood must be collected in a responsible way to preserve the eco-system (FSC certification confirms this): in a sustainable lumbering practice, new seedlings are planted when trees are removed, ensuring that forests regrow.
But this is not enough. It is crucial to rely on a manufacturing company that pays great attention to sustainability during the entire manufacturing process, from production to logistics and distribution. For example, if the company has production plants where most material is gathered, its impact on the planet will be lower, as the road taken by wood to reach production will be shorter.
Some wood manufacturing companies use shavings to fuel their heating systems and heat drying chambers, saving tons of energy. You must find a partner that demonstrates a deep commitment to sustainability in offering eco-friendly spirits packaging.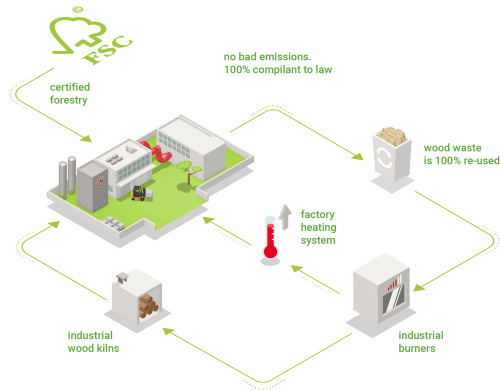 ---
Minelli S.p.A. is known all over the world for its innovative, elegant, and perfectly made wooden products, which are created respecting all the rules as well as the parameters dictated by the market, with great attention to sustainability.
If you would like to receive more information, contact us right now. We will help you find the best solution for your clients, putting our 80 years of experience at your service. Click here!