Wooden caps will emerge from the pack to express the glamour of your products.
Here's how this new and special wood finish was born.
Wood is the best material for luxury packaging: that's why
Why do we love wood? Because it is natural, alive, prestigious, and extremely beautiful. It gives a deep sense of warmth and a tactile and sensorial feeling that is unthinkable with other materials. It is extremely versatile and appreciated by people all around the world.
Wood is part of our lives. It is a precious raw material that has been used for centuries for construction material, furniture, and fuel for industries and houses. For this reason, it must be respected, preserved, and collected responsibly, caring about wildlife, regeneration, and the ecosystem.
Nature gives us many different types of wood, each with its own specifics and characteristics. Having the opportunity to study and manage this raw material, learning how to properly use it, knowing what wood essence is best for a specific product, and helping our clients find the best solution for them is a privilege for us.
For this reason, we always try to keep intact the traditional and primitive soul of wood, combining it with our expertise and technologies to create innovative products.
We create wooden components and special finishes for cosmetic and perfume luxury packaging
Brands and companies always try to communicate their identity and values through their products. Packaging is an important resource to provide an experience for consumers and transmit the right message from the very first glance.
Wood can evoke different atmospheres and styles. Managing this amazing raw material is a challenge the Minelli Group decided to embrace 84 years ago and continues to maintain today. We're carrying on a family tradition without losing our focus on the most recent trends, innovations, and latest technologies.
We want to provide our clients with the highest quality products: that's why our Research & Development department is constantly working to find the best and most efficient solutions that can satisfy increasingly demanding and evolving customers' requests and standards.
That is how our latest Shine & Metal finishes project was born
We have provided wood with new feelings and innovative sensations, following market demand for cosmetic and perfume packaging that:
recalls the prestige of metals and shiny surfaces
attracts customers' attention and influences their purchasing decisions
proves the value of both the product and the brand
is cutting-edge and in line with new trends
Observing the Spring/Summer 2021 collections, we have been inspired by two different philosophies to create our new Shine&Metal finishes. The result is two innovative and captivating solutions for luxury packaging.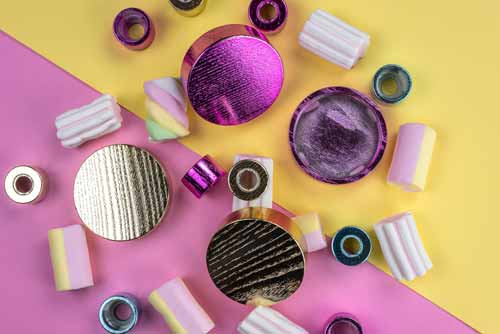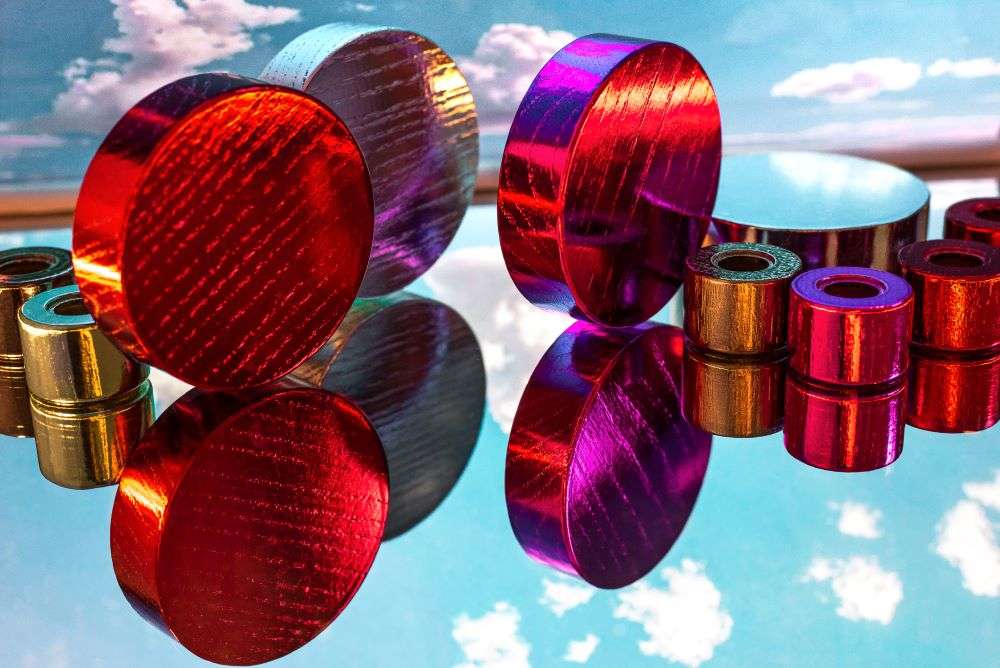 The new Shine & Metal finishes follow our idea of tradition and innovation
Thanks to our consolidated method, based on a coengineering and codesign approach, we keep on using wood as the solid base on which your dedicated project is built.
We selected those wood essences with more evident grains, and we created an innovative finish that makes the raw material shine as a brilliant metal surface without losing its genuine warmth and naturalness.
Shine&Metal finishes can be customized according to each client's request: we can provide many colors, shades, different levels of protection, and sparkle. Shine&Metal will let you offer innovative—but also resistant and durable—wooden caps and packages in your catalogue, satisfying the needs of increasingly demanding customers. It can be a real turning point in your project.
Here are our proposals.
Candy Shine & Metal finishes
A selection of pastel colors in light and bright shades to obtain a discrete, cool, and full of energy perfume and cosmetic packaging design. These colors are perfect for perfume and cosmetic packaging designed for younger people, as they embody the spirit of fashion brands and childlike crochet details enhanced by new trends.

Rock Shine & Metal finishes

This palette has been inspired by '80s vibes that will invade the incoming Spring/Summer collections. Pure, strong, even eccentric colors that are ideal for cosmetic and perfume designs dedicated to decisive, bold, and resolute men and women.
This finishing option can also be adapted to every kind of shape and geometry, giving to luxury packaging an uncommon and scrappy touch that can't go unnoticed.
---
Cosmetic and perfume packaging is the first thing consumers see when they purchase a new product, and it influences the perception people have of the value of the brand and the product itself. Companies are aware of this and look for innovative ways to make their products stand out.
At Minelli, we always try to create distinctive wooden products with unique finishes, collaborating with clients to satisfy their requests. Innovation and a deep respect of the raw material are our most important prerequisites. Thanks to our decennial experience in wood manufacturing and our internal R&D department, we constantly develop new ideas, processes, styles, and techniques to make glamorous, beautiful, and functional objects.
If you want to discover our unique and innovative products or have a project in mind, we can help you give shape to your idea. Contact us!